THE TIMES, October 17 1998
---
High-living Hitler was obsessed with money and corruptly amassed a fortune. Roger Boyes on a new study of the Führer that nails the image of an abstemious Nazi lifestyle
How tax dodger Adolf became a millionaire
THE SPARTAN image of Adolf Hitler, cultivated by Nazi propaganda and widely believed to this day, was bluff according to a new book, which demonstrates that the dictator became a multimillionaire and did his best to cheat the taxman.
Wulf Schwarzwoeller, the independent German historian, paints a portrait of Hitler at odds with the commonly accepted version of an impoverished, struggling painter whose demagogic energy propelled him to the head of the Nazi movement. As the ruler of the Third Reich, runs the popular legend, he led an almost monastic existence; his fanatical drive for world domination eclipsed normal financial or personal ambitions.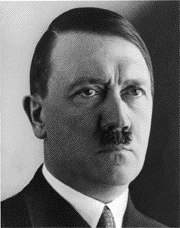 Not so, says Herr Schwarzwoeller in Hitlers Geld. Hitler was obsessed with money and, while he may not have dug as deeply into the honeypot as other member of the Nazi inner circle, he was willing to go to extraordinary lengths to amass a personal fortune.
At first, Hitler was more adept at spending than making money. His father Alois, who worked his way up the ladder to become a senior customs officer, bought and sold two houses for a profit, and when he died, at the age of 66, his widow Klara inherited the substantial sum of 5,000 Austrian crowns which, with a generous pension, made her relatively well off.
Young Adolf became a coffee house dandy, his tailors' bills paid by his doting mother. In Vienna, in the summer of 1906, his mother paid his hotel bills and for tickets to the opera over two months. When he returned to Linz, announcing his intention to become a composer, his mother bought him a grand piano and paid for expert tuition.
Picture from our Website archives]
Hitler thus grew up with a sloppy attitude to money. His rough times in a Vienna workingmen's hostel -- after the death of his mother and rejection by the Academy of Fine Art -- evidently triggered his determination to become rich.
After the First World War, developing his skills as a political speech-maker for far-right groups, he discovered a talent for finding rich patrons. Some did little more than pay his coffee house bills. Others, like Helene Bechstein, of the piano dynasty, wanted to remodel him and paid for a dinner jacket and patent leather shoes. They so took Hitler's fancy that he wore them throughout the day.
In the autumn of 1920 he worked up a passion for Mercedes limousines and tried, unsuccessfully, to persuade his cash-strapped party to pay for one. Eventually, Hitler got his Mercedes as a gift, perhaps from Frau Bechstein or from the car manufacturer himself (Hitler later claimed to have sent his own design ideas to Mercedes in Stuttgart). The car was at the heart of a row with the Munich taxman, who could not understand how Hitler was able to live such a good lifestyle -- by the late 1920s he was living in a nine-room apartment in Munich -- on such a low declared income.
According to Herr Schwarzwoeller's research, Hitler received his first tax warning in May 1925. He was ordered to submit a declaration for 1924 and the first quarter of 1925. Grudgingly he replied: "I had no income last year and earned nothing in the first quarter. I have been living off bank loans." He claimed that the Mercedes was also had on credit.
For the last quarter of 1925 he submitted a declaration. Income: 11,231 marks. Professional expenses: 6,540 marks. Interest payment to bank: 2,245 marks. Taxable net income: 2,446 marks. The car, he said, was needed for his work as a political author, as was his private secretary -- Rudolf Hess, who earned 3,000 marks a month -- a bodyguard and a chauffeur. "I have neither property nor capital, I don't smoke or drink, my meals are eaten in the most modest of restaurants," he complained to the tax office. The taxman did not believe him, disallowed half his expenses and continued to pursue him. In 1933, when Hitler came to power, the tax demands dried up and, one can safely assume, the careers of various tax inspectors took a downward turn.
But the taxman was on to something. By 1929 Hitler's tax declarations no longer claimed deductions for interest payments. Somebody, presumably, had paid off his debts. Mein Kampf, written in prison (where he led a very cushioned life, thanks to his various patrons), was given as his main source of income. His royalty cut was high -- 15 per cent -- but the sales figures were initially modest. In 1925 he sold 9,273 copies and turnover only picked up in 1930 when he sold 54,006.