DAVID IRVING is due to speak on Real History at Austin, Texas, at the end of this week, bringing to an end a twenty-thousand mile speaking tour which has taken him to all four corners of the United States this year. On Friday he spoke to a big meeting at a private location in the heart of New York City: tables had to be taken out of the hall and more chairs brought in to seat the unexpectedly large audience. Yesterday, Sunday August 9, he spoke to a packed audience in Niagara Falls, New York -- scores of Canadians poured over the frontier from Ontario to hear the British writer, whom the "League of Human Rights" of the B'nai Brith Canada managed to get banned from Canada in 1992.
Now these traditional enemies of free speech are trying to stop him from lecturing to a Texas audience which will include scores of his Fighting Fund supporters, students and other ordinary young people, as this news release issued by the National Alliance, a right-wing United States organisation, reports: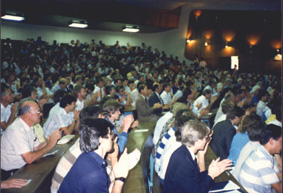 [Above: Pretoria, 1987]
Adopt the Usual Methods
Threats, Smears, and Intimidation of Hotel Managers
[Edited text of release]
Ramada Inn Cancels Contract To Host Persecuted Historian
Austin, (Texas) - It doesn't take long for word to get out that David Irving is coming to town. Within days of announcing his appearance in Austin, the Ramada Inn Austin North received a flood of calls demanding the hotel cancel their contract to host the controversial British historian. A hotel spokesperson called event organizers Thursday to inform them that they had decided not to host David Irving after complaints were received earlier that day.
"This is yet another example of the real meaning of "tolerance" and "democracy" in America," said event organizer Vincent Breeding. When asked who he thought was behind the phone calls to the Ramada, Breeding said "...no one has to guess who these unnamed pressure groups are. [They] make a lot of money off the so-called "Holocaust" and they're not about to let anyone spoil their lucrative criminal enterprise."
National Alliance organizers have already found a new venue for David Irving's speech on August 14. When asked if they thought the Courtyard by Marriott would follow the Ramada's lead, Breeding said "They . . . can complain all they want, we plan to win."