DUTCH "ANNE FRANK" TRIAL DUE IN AUGUST
The Trial of Mr Siegfried Verbeke, Publisher, of the Foundation for Free Historical Research [Stichting Vrij Historisch Onderzoek] is to begin in Amsterdam.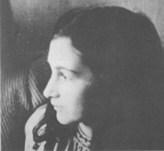 Said to be one of the last pictures of Anne Frank
COMPLAINANT IN the case, which is to be heard at the Amsterdam courthouse at Parnassusweg 220, at 9:30 a.m. on August 20, is the Anne Frank Foundation of Amsterdam, which runs the Anne Frank House in that city as a profit-making enterprise.
Verbeke and other revisionists maintain that much of the famous diary of Anne Frank is in fact a fraud, written by another person.
"In my opinion," said Verbeke to Simon Sheppard, of Heretical Press, publisher of the book The Diary is a Fraud, "It is impossible for us lose this trial."
---
Mr Verbeke can be contacted by phone or fax at 00 32 3 272 1313.