[images and captions added by this website]

Melbourne, Australia, Thursday, January 18, 2007
Jews object to German beer ad as 'insensitive'
Beer commercial 'leaves sour taste'
By PETER KOHN
Australian Jewish News
MELBOURNE - A BEER commercial that claims the product is brewed according to "the German Purity Law" is "insensitive," according to the head of the Jewish community's antisemitism watchdog.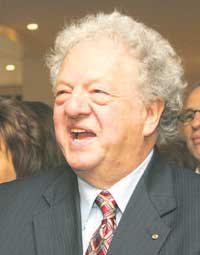 B'nai B'rith Anti-Defamation Commission (ADC) chairman Michael Lipshutz (right) told the AJN that the Beck's beer commercial should specify a "German beer purity law" to distinguish it from Nazi Germany's racial "purity" laws.
The audio track for the commercial, which has aired on Foxtel's Comedy Channel, mentions "the German Purity Law" and also emblazons the words across the screen.
James Tait, corporate affairs manager for Beck's importer Lion Nathan Australia, said the advertisement "has been running in Australia and other parts of the world for several years."
"The German Purity Law is a brewing law that ensures only natural ingredients are used. It has been around since 1516 and the ad is clear that it [the purity law] relates to the product."
Foxtel corporate affairs manager Rebecca Melkman said the pay-TV provider, after reviewing the commercial, "believes it complies with the code. In our view, the commercial clearly refers to the German Purity Law as a method of brewing beer -- it is a well-known beer brewing method that is described in detail in the commercial."
She said she was unaware of any previous complaints regarding the commercial.
Lipshutz said the airing of the commercial in the general media could cause offence to some people, particularly those who were affected by the Holocaust. "I think it is insensitive. It leaves a sour taste."
In a letter to the AJN this week, London resident Todd Tobias, who saw the ad on the Comedy Channel during a recent visit to Melbourne, said that while he wasn't offended as a Jew, he was "surprised at the unfortunate, evocative, and in some ways darkly humorous misuse of words."
Lipshutz said the ADC would investigate the commercial.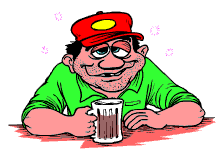 COMMENT: But it's OK for Jews to enforce their own "racial purity" laws against non-Jews in Israel?

Our dossier on the origins of anti-Semitism