Toronto, Canada, Wednesday, November 2, 2005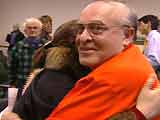 Ernst Zündel files suit against Ottawa
By Richard Blackwell
HOLOCAUST denier Ernst Zündel is suing the federal government for $10-million, claiming he was unjustly held in solitary confinement and deported to Germany.
In a statement of claim filed yesterday, Mr. Zündel said that his treatment at the hands of the government was illegal and unconstitutional.
Mr. Justice Pierre Blais of the Federal Court ruled in February that Mr. Zündel was a threat to national security and that he had tried to develop and maintain a global network of groups with an interest in a "right-wing, extremist, neo-Nazi mindset."
Mr. Zündel was deported to Germany in March, jailed there, and charged with inciting racial hatred.
Judge Blais said it was reasonable to hold Mr. Zündel in jail in Canada under the controversial security certificate process, which allows secret hearings that are closed to the accused and their lawyers.
Government lawyers will try to have Mr. Zündel's suit thrown out at a hearing in the Federal Court on Nov. 23.
Mr. Zündel says in his court filing that the government is trying to block his suit before the Supreme Court of Canada rules on the constitutionality of security certificates.
The top court has said it will examine the issue in two cases involving Hassan Almrei and Adil Charkaoui, who are suspected of being terrorists.
Mr. Zündel's lawyer, Peter Lindsay, said Mr. Zündel was held and deported "based on a process that we argue is blatantly unconstitutional and contrary to every sense of justice that any normal person would have.
"The rules of justice have to apply to everyone, even Ernst Zündel," Mr. Lindsay said.
In his claim, Mr. Zündel said the government's actions caused him "colossal damages arising from his hasty deportation which can neither be mitigated against nor reversed."
---

Toronto, Canada, November 3, 2005
Zündel to face trial in Germany
CJN News Services
BERLIN -- Ernst Zündel, who has been held in a German jail since being deported from Canada last March, will go on trial Nov. 8 in the city of Mannheim on charges of inciting racial hatred.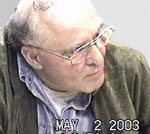 A longtime white supremacist and Nazi apologist, Zündel is accused of denying the Holocaust -- a crime in Germany -- in documents and on his website.
From his former home in downtown Toronto, Zündel distributed large amounts of Holocaust-denial documents around the world. He controlled a website -- called the "Zündelsite" -- based in the United States and available in Germany, that also published materials questioning the Holocaust.
In 2002, a Canadian Human Rights Tribunal found that material on the Zündelsite "viciously targeted" and "vilified" Jews."
The tribunal ordered Zündel to remove the offending material, but he had moved to Tennessee by the time the tribunal issued its ruling. He was deported back to Canada after overstaying a visitor's visa and spent two years in custody as federal authorities sought to remove him as a security threat. He was deported in March.
Last week in Prague, the capital of the Czech Republic, about 60 right-wing extremists march in front of the German embassy protesting Zündel's incarceration. A larger group of 150 counter-protesters rallied to oppose the neo-Nazi group.


Our dossier on the Ernst Zündel case | and updates
Dates set for Zundel Holocaust Trial # 3 - in Germany. Political kidnap victim
Zündel defamed as insincere by Canada's lawyer
Dutch judges rule that Belgian revisionist Siegfried Verbeke, arrested at Schiphol, can be extradited to Germany because of his history website | Verbeke already shipped to German jail?
Revisionist historian, chemical expert Germar Rudolf detained in USA | How best to help him? | What he wrote in 2004 about civil rights in Germany