[images and captions added by this website]


Wednesday, October 26, 2005

My son attends a Jewish nursery, says Blunkett
By Sarah Womack and Jonathan Petre
DAVID Blunkett has disclosed that his son by Kimberly Quinn, his former lover, attends a Jewish nursery.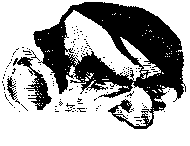 David Irving comments:
UNLIKE The Daily Telegraph, evidently, I have little concern about the religion of the school David Blunkett sees his offspring being sent to. But I am concerned to find him back in office.
He is just another of the India-rubber freaks and cronies who have bounced in and out of Tony Blair's Cabinet. Peter Mandelson is another. No misdemeanour, no crime, no scandal or private shame is sufficient for Mr Sanctimonious Blair to divest himself permanently of these worthless creatures.
While England goes to the dogs, and while White Londoners now flee to the provinces at the rate of 300,000 a year, he fiddles on -- and boy, are there some fiddles going on right now.
I am old enough to remember and be Englishly proud of the Crichel Down Affair. Go Google it, if you don't recall the details: a government minister, personally wholly innocent of wrongdoing (Sir Thomas Dugdale I believe), resigned for ever from office because some junior official in his ministry had made a balls-up over a postwar land deal.
The affair set a benchmark for standards of ministerial responsibility and probity. It has now become invisible, encrusted with the barnacles of New Labour -- not that the modern Tories are any better.

THIS is incidentally a classic example of the cowardly and contrived manner by which the major broadsheet newspapers reveal that a well known person -- in this case Kimberley Quinn, pilloried as a slag and a totally immoral whore in a major television comedy film a few days ago -- is Jewish.
Just as one had to read halfway down a whole page article in The Observer last Sunday about Peter Green, the Top Shop owner who has just paid himself an annual bonus of over £1000million (yes, one billion pounds), is also Jewish (there was an otherwise pointless reference to the hideously expensive "barmitzvah party" he had thrown for his son).

The Work and Pensions Secretary, who was raised as a Methodist, added that as the boy's mother was from a Jewish background, it was "appropriate" that William, three, should attend a Jewish nursery.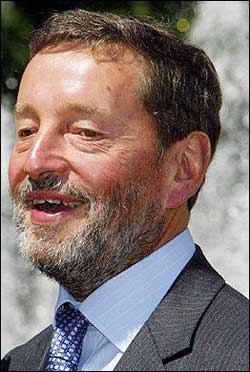 His comments were made at a recent gala dinner hosted by the Friends of Haifa University.
Mr Blunkett, who was being presented with an honorary doctorate, said he wanted to thank the Jewish community for its "extraordinary support" when "things got difficult" in his personal and professional life.
"And I won't let you down. I feel deeply honoured when friends from the Jewish community are prepared to welcome me. I feel like one of the family."
Robert Whelan, the deputy director of Civitas, the Institute for the Study of Civil Society, said last night that Mr Blunkett could not criticise media scrutiny of his private life when he talked about it himself.
He said: "Politicians are always looking for means of gathering votes, whatever group they are in at the time, and these remarks were better off unsaid."