London, Tuesday, July 5, 2005

[Reader's Letters to the newspaper]
Intelligence and style clues point to Himmler fakes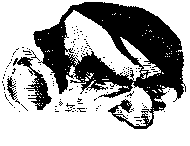 David Irving comments:
ALL good points, except the first; what could the "eye-witnesses" know, if the murder was inded a skilled one?
The letter-writers are of course all Monday-morning quarterbacking. When the average researcher is working in the Public Record Office, he expects everything produced to him to be genuine, and he is not on the lookout for forgeries. The apparent forger has done history a great disservice.
I am looking forward to the PRO's report. I put the forgery chances at 90 percent.
The down side: It will make it very difficult now to postulate that Himmler was murdered, however compelling the other evidence, because the mindless squawking will begin at once.
I RECALL my own bad fortune when William Morrow Inc. published my discovery, The Secret Diaries of Hitler's Doctor, in 1983.
That was just a few weeks after the big boys, The Sunday Times, Newsweek and Der Stern had fallen flat on their smirking faces with the "Hitler Diaries" faked by Konrad Kujau.
Needless to say, my book had a rough ride in the ignorant press. Nobody now doubts the medical diaries' authenticity, but they sure did in 1983.
Even in 1992 Andrew Neil of The Sunday Times was frightened of touching the Goebbels Diaries which I retrieved from the KGB archives, for that reason. I goaded him, "Andrew, boy, this is the chance for The Sunday Times to rehabilitate itself!"


Sir - IF Martin Allen (Report and Letters, July 4) had checked with the Military Intelligence Museum in Chicksands, Bedfordshire, before starting his book he would have been able to read the research files on Himmler's death which were compiled in the early 1970s in collaboration with the magazine After the Battle.
They contain evidence from personal diaries as well as eyewitnesses from 45 Field Security Section who arrested Himmler, staff from Camp 031 in Barnstedt and 31a Uelzenerstrasse, where he eventually committed suicide. The Intelligence Corps has no doubts that Himmler took his own life.
A. F. Judge,
Regional Secretary Intelligence Corps Association,
Deeping St James, Lincs


Sir - IT was fairly clear to me that these letters were forgeries. Until the age of word-processing instructed otherwise, any Civil Service typist was taught to put three spaces between a full stop and the start of the next sentence.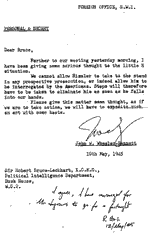 That formality had not been observed by the counterfeiter who must consequently be young and a mere keyboard-operator.
Arthur W. J. G. Ord-Hume,
Guildford, Surrey


Sir - SIR John Wheeler-Bennett would not have written (right) to Sir Robert Bruce Lockhart as "Dear Bruce". He would have written "Dear Robert" or "Dear Bruce Lockhart."
Robert Innes-Smith,
Derby

Our dossier on the suspect and genuine documents on Himmler's death
Daily Telegraph claims that forged documents were planted in British archives | Daily Telegraph Opinion: Faking our history | The forensic tests [650k pdf ]
Historian calls for an inquiry over fake Himmler documents
Reader's Letters to the Daily Telegraph
The suspect 'Himmler Liquidation' documents: Our position at this point: David Irving statement
Conformist Churchill Historian Andrew Roberts calls for inquiry and arrests - with readers' letters
The Sunday Times accuses Martin Allen was involved in forgery row over his book on Duke of Windsor too
Glasgow Herald: Himmler papers labelled forgeries