[images and captions added by this website]

Media Matters*

Saturday, March 19, 2005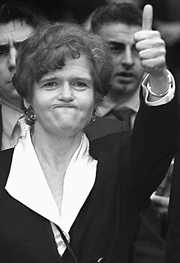 Orchestrated pressure mounts on C-Span producer to silence Irving film
---
[The once-objective Media Matters has secretly circulated all its contacts to urge them to bludgeon C-Span Producer.]

Dear Friends,
C-SPAN's BookTV is reportedly planning to air British Holocaust denier David Irving in order to "balance" its coverage of a March 16th speech by Emory Holocaust studies professor and author Deborah Lipstadt. Connie Doebele of C-SPAN told the Washington Post on Tuesday, "You know how important fairness and balance is at C-SPAN".
We believe in a balanced media - but there is nothing fair or balanced about broadcasting a lie next to the truth.
Today's New York Times reports that, apparently in response to sharp criticism, C-SPAN's plans to feature Irving as "balance" to Lipstadt are now "up in the air". C-SPAN'S uncertainty makes this a crucial time to make your voice heard.
TAKE ACTION!
Contact Connie Doebele, Executive Producer of C-SPAN's BookTV, and tell her that C-SPAN's BookTV should not provide a platform for an anti-Semitic historical revisionist in the name of "balance".
Phone: (202) 737-3220
Fax: (202) 737-6226
E-mail: booktv@c-span.org
Website: http://www.booktv.org
Please be polite but firm when calling.
For further information, please visit the links below this e-mail. Together we can demand the media not give hate and lies the same credence as historical truth.
Sincerely,
David Brock President and CEO Media Matters for America
* Source Watch gives the low down on Media Matters -- who is behind and who finances it