[images and captions added by this website]

Honest Report.com [*]
March 16, 2005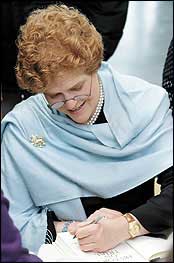 Photo: Prof Deborah Lipstadt received
an ecstatic welcome when she spoke
in Feb 2005 at Brandeis University, and signed six million copies of her latest book (equally true).
* Internet records show that HONESTREPORTING.COM was created in Oct 2000 by John Wiggins [email ssilinsky-web@aish.com], address 57 The Grove, London (UK), postcode not stated, 02 09555 4678 [not a fixed London phone number]
C-SPAN's Shaky Balance
THE cable network insists on granting air time to a notorious Holocaust denier.
Yesterday (3/15), leaders from more than 40 nations gathered in Jerusalem to dedicate a new, expanded Yad Vashem Holocaust museum.
Yet at the very time that this monument to Nazi evil was inaugurated, the American cable network C-SPAN planned to give a notorious Holocaust denier a broad audience to promote his ideology that the murder of six million Jews never occurred. This, in the name of 'journalistic balance'. Here's what happened:
Deborah Lipstadt, Holocaust scholar at Emory University (pictured), will deliver a talk at Harvard University this evening (March 16, 2005), promoting her new book, History on Trial: My Day in Court with David Irving. C-SPAN wished to broadcast Lipstadt's talk on the network's BookTV program, but informed Lipstadt that a recent speech of Irving's (recorded by C-SPAN) would need to be broadcast as well. C-SPAN producers explained their reasoning to Washington Post columnist Richard Cohen:
'We want to balance [Lipstadt's lecture] by covering him [Irving],' said Amy Roach, a producer for C-SPAN's Book TV. Her boss, Connie Doebele, put it another way. 'You know how important fairness and balance is at C-SPAN... We work very, very hard at this. We ask ourselves, 'Is there an opposing view of this?'
C-SPAN, that is, sought out an 'opposing view' to Lipstadt's confirmation of the Nazi Holocaust. Lipstadt refused to be cast side-by-side with Irving, on the grounds that Holocaust denial does not merit public debate. Cohen asks the appropriate question: 'For a book on the evils of slavery, would C-SPAN counter with someone who thinks it was a benign institution?'
In personal correspondence with HonestReporting, Lipstadt explained:
I would have been delighted to appear on C-SPAN's BookTV. It is an important venue and is watched by a book-reading audience. However, there was no way I was going to be forced into debating a man who is the equivalent of a flat-earther. I spent six years in court fighting this man. [Website comment: She took the Fifth, and refused to testify in the London trial]. We defeated him completely. That C-SPAN should now give him an opportunity to resurrect arguments which the court found completely false is appalling.
Appalling -- six million times over.
HarperCollins, the publisher of Lipstadt's book, has supported Lipstadt's decision not to appear on C-SPAN, despite the fact that this loss of publicity means a loss of book sales.
HonestReporting encourages subscribers to write to C-SPAN, questioning its policy that grants equal air time to mendacious and immoral claims.
Comments to C-SPAN: booktv@c-span.org