[images and captions added by this website]

Updated at 15:23 on March 18, 2005, EST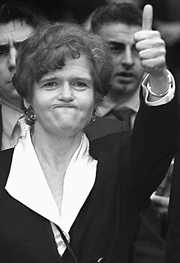 The Canadian Press
---
Historians irked by C-Span's plans to air alleged Holocaust denier
.
WASHINGTON (AP) - Historians piqued at C-Span's plans to air a speech by a British historian who has challenged the extent of the Holocaust have petitioned the non-profit network to cancel the project.
The petition, sent to Connie Doebele, the executive producer of C-Span who slated the coverage, disputed the notion that showing David Irving's speech would add "balance" to a program that featured a lecture by Deborah Lipstadt, professor of Holocaust Studies at Emory University.
"Falsifiers of history cannot 'balance' historians," said the petition signed by more than 200 historians in the United States and other countries and sent to C-Span this week. "Falsehoods cannot 'balance' the truth."
Irving, the author of nearly 30 books, including Hitler's War, took Lipstadt to court, suing her for libel for calling him a Holocaust denier. The lawsuit was dismissed in 2000 by the British court, which said that Irving was anti-Semitic and racist and he misrepresented historical information.
Lipstadt was to promote her book about the case, History on Trial: My Day in Court With David Irving, on C-Span's weekend program, Book TV, in late March.
C-Span spokeswoman Peggy Keegan said in an e-mail message:
"Book TV was interested in Deborah Lipstadt's new book about her British libel trial. Our interest in covering David Irving was to hear the plaintiff's story of the trial. Since Professor Lipstadt has closed her book discussions to our cameras, we are still discussing how to cover this book and we don't have an immediate timetable."
Lipstadt said when she realized Irving was to get air time, too, she contacted C-Span and someone there explained his side would add 'balance.' She has declined to go on C-Span if Irving is in the equation.
"What balance was there? There was a tsunami; there wasn't a tsunami?" she said Friday. "That's fuzzy thinking of the worst kind. It's an absence of critical thinking."
"It's not a personal issue against (Irving). You just don't debate whether the Holocaust happened. That's like debating whether the Earth is flat."
Rafael Medoff, director of the David S. Wyman Institute for Holocaust Studies, which circulated the petition, said concern about Irving's appearance on C-Span spread like wildfire among historians and social scientists. More than 200 of them had signed the petition within 48 hours.
"Holocaust denials are being treated by C-Span as a legitimate alternative viewpoint when in fact it is a falsification of history," he said. "When you're speaking about indisputable historical facts, there is no other side. There's no alternative."
"It is nothing more than bigotry disguised as an interpretation of history," he said.

The Canadian Press, 2005

Index to the media scandal surrounding Prof Lipstadt's attempt to silence C-Span and the history debate