Monday, November 15, 2004
Movers go on trial for alleged extortion
By Peter Lewis
Seattle Times consumer-affairs reporter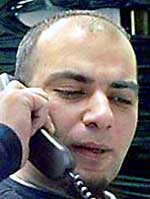 Erik Deri is one of four people
going on trial in the alleged scam.
FOUR people go on trial in federal court in Tacoma today on charges they extorted customers in a household-moving scam by luring them with low prices, then jacking up costs and holding their goods hostage until they paid.
Now defunct, Woodinville-based Nationwide Moving Systems harmed more than 50 people, the government alleges. Actual and intended losses -- including the amount the defendants tried to defraud customers out of -- exceeded $1 million, prosecutors contend.
According to the government, the defendants would delay notifying customers of the inflated prices until after their goods were loaded. This had the effect of squeezing customers, the prosecutors say.
Some customers, for example, faced penalties from airlines if they canceled previously scheduled travel arrangements; some were under pressure because they had to relocate for a new job. Others were stuck because their leases had expired or their homes had been sold and so they had nowhere to stay, the government alleges.
Of seven people originally charged, three -- Martin Kirk II, 25, and Michael Airgood and Kristen Klein, both 24 -- have pleaded guilty and have agreed to testify against the remaining defendants.
They are: Erik Deri, 33; Yosef Nahum, 55; and Yuval Derei, 30, all of whom are Israeli nationals facing deportation if convicted. Yuval Derei is Erik Deri's brother. The fourth defendant, American-born Tanya Deri, 29, is Deri's wife.
According to charging papers, the investigation was sparked after a March 2003 Seattle Times article described customer experiences with Nationwide.
Each of the defendants is charged with conspiracy to commit wire fraud and interfere with commerce by extortion, which carries up to five years' imprisonment and a $250,000 fine. In addition, they face multiple counts of fraud and attempted extortion, each of which carries up to 20 years and a $250,000 fine. Some of the defendants face additional charges.
Nationwide used the Web and the Yellow Pages to advertise, and it sometimes purchased moving jobs from other moving companies. It falsely represented itself as a reputable, insured and licensed moving company, the prosecutors alleged. The scam started in May 2002 and ended in July 2003, the government said.
The trial has been delayed several times, most recently in August as a result of a U.S. Supreme Court ruling that cast doubt on the constitutionality of federal sentencing guidelines. The so-called "Blakely" ruling, which grew out of a Washington state case, established the principle that jurors, not judges, must decide the facts that determine a criminal sentence.
As a result, U.S. District Judge Franklin Burgess of Tacoma recently ordered the Nationwide case split into two parts. If jurors convict, they would then reconvene to consider additional evidence, such as the vulnerability and number of victims and amount of financial loss, that could lead to stiffer punishment.
The trial is expected to last about a month. The government plans to introduce roughly 400 exhibits and call nearly 100 witnesses, records show.
Among the victims on the government's witness list is John Jennings, a former Issaquah resident, who told The Times his move to Florida in September 2002 was spoiled by Nationwide.
He said the company had revised the price upward from $3,000 to $16,000 -- and then refused his request to unload his possessions after he objected. Ultimately, the total cost of his move, after hiring a different company to retrieve, move and re-store his possessions, exceeded $11,000.
Another victim scheduled to testify is Sarah DeLassus, who hired Nationwide to move from Seattle to Antioch, Ill., in February 2003. She said her belongings arrived two weeks later than promised. Virtually everything she owned was broken, shredded, soiled, splintered or otherwise mutilated, she and her mother said.
DeLassus estimated the loss at between $4,000 and $5,000. In addition, several boxes of her belongings never arrived, she said.
DeLassus said the government's Seattle-based witness/victim coordinator told her earlier this year that "she had never worked on a case where people were so eager to participate" as opposed to feeling annoyed about having to testify.
The defendants' attorneys have been mum about their trial strategy. But a criminal-defense attorney familiar with the case said he expects the defense will focus on the forms customers signed when they agreed to hire Nationwide, specifically regarding permission to charge more if customers underestimated how much stuff they had.
Lawyers for Tanya Deri and Yuval Derei have minimized their clients' roles. At a hearing last year, for example, Jim Frush, representing Tanya Deri, described her as "tangentially involved," a characterization disputed by Assistant U.S. Attorney Kathryn Warma.
Deri's lawyer, Peter Camiel, said his client responded to his older brother's (Erik Deri's) invitation to join the business, but didn't start working for Nationwide until March 2003. Derei worked primarily as a dispatcher and had "very limited contact" with customers, Camiel contended.
A development that could be useful for the defense was the firing earlier this year of the government's case agent: Melanie Jaimerson, a Seattle-based special agent with the Department of Transportation's Office of the Inspector General.
Defense attorneys were eager to learn whether her dismissal was related to the Nationwide case. But after her personnel file was submitted to the court under seal, Burgess said it was not.
Still, the defense has copies of the interviews Jaimerson conducted with witnesses. If the witnesses tell a different story under oath than they told her, the defense could use the transcripts to impeach their credibility. And because the government has scratched Jaimerson from its witness list, she would not be available to assist in countering such attacks.
If history is any measure, the defendants face an uphill battle.
The Seattle prosecution is similar to other recent federal extortion cases that implicated Israeli-run moving companies around the country, including California, New York and Florida. In virtually every instance, the defendants pleaded guilty or were convicted by jurors, officials said.
In the Nationwide case, prosecutors plan to present a household-goods moving-industry expert to testify about standard practices adopted to avoid customer fraud, obtain accurate moving estimates and resolve consumer complaints.
By contrast, Nationwide customers will testify that their goods were damaged and/or stolen, and that their efforts to file claims with the company were typically "rebuffed, ignored, or evaded," the government said in court papers. And in some cases, the defendants stole household goods entrusted to Nationwide's care, the government contends.

Peter Lewis: phone 206-464-2217
Copyright © 2004 The Seattle Times Company


... on this website
Our website dossier: The origins of anti-Semitism
Mar 2003: A Radical's Diary, on Khalid Shaikh Mohammed, Miami "furniture removers", and other scams
Moving scam Companies charged customers double contracted price: Two convicted, others flee to Israel
That other "Israeli furniture remover" story:
May 2004: Movers and Fakers: Two wanted Israelis now in Federal Custody | Hold Put on Arrested Israelis | Two Israelis in Tennessee court in handcuffs | Two Israeli Chase suspects held without bond | arson accelerant was tossed from their Ryder Truck | Israelis with fake docs arrested, 'how to fly' leaflet found! FBI called in [Wasn't in your local paper either, eh?]
Daniel Hopsicker reports: Israeli "movers" in submarine-base scare to be ... freed Navy locks down King's Bay Submarine Base (Georgia) after two Israeli "movers" are detained | Two Israelis held for deportation
Turns out that Shmuel Dahan, leader of the two Israeli 'furniture movers' arrested in Tennessee car chase -- now freed! -- is son of top Likud Party official, was once chief of National Union of Israeli Students