[images added by this website]
Melbourne, Australia, September 17, 2004 - 6:13PM
Irving banned from boarding NZ flight
CONTROVERSIAL historian David Irving was today [Thursday, September 16, 2004] refused permission at Los Angeles airport to board a Qantas flight for New Zealand.
Irving, who has gained notoriety as a Holocaust denier, said he would take his fight to enter New Zealand to the courts.
He had earlier said he was determined to visit New Zealand this week to speak to the National Press Club despite a government ban. [click picture below for our website picture report]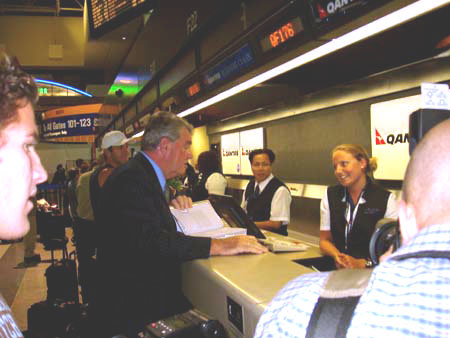 New Zealand Associate Immigration Minister Damien O'Connor said Irving presented himself at the Qantas check-in at Los Angeles today and was refused permission to board the plane.
"Mr Irving's status as a prohibited person under the Immigration Act (S7) means that he cannot enter New Zealand without a special direction," O'Connor said in a statement, "and no special direction has been granted."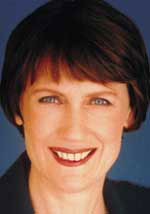 Irving said tonight the airline staff were very polite and it was not their fault that Prime Minister Helen Clark (right) and Deputy Prime Minister Michael Cullen had behaved in an very un-British manner.
"I've visited New Zealand before on two occasions, so why shouldn't I be allowed to come on a third occasion," he said on National Radio.
He said he had read in the New Zealand media that he would not be allowed to go to New Zealand -- "the huffing and puffing of the government in Wellington".
"I was quite impressed actually and rather proud that Helen Clark should have paid attention to the arrival of one single tourist in my person."
Irving said he had "instructed a very good lawyer in Auckland to take the matter further".
"We have certain steps we are going to take that would be extremely uncomfortable for the government in New Zealand.
"We will now require them to produce their papers and lay their cards on the table -- exactly as happened in Australia all those years ago... when I fought action after action against the Australian government."
Irving's lawyer in New Zealand, Colin Amery, said he was sure Irving would fight the matter through the courts.
He said the government had acted in a duplicitous manner in stopping Irving from coming to New Zealand by using rules designed to intercept stop terrorists.
Earlier this week it was reported that Irving's name had been on an Immigration Services computer alert for several weeks since the Government said he would not be allowed into the country, after being banned from Canada 13 years ago.
The Immigration Service said his name was on the Advanced Passenger Screening System to which all the world's airlines subscribed.
Immigration Service spokeswoman Michelle Williams said airlines were aware that a banned person would not be allowed to land and would have to be returned at the airline's cost.
Amery told radio network Newstalk ZB that Irving had been put on the list on May 23.
He asked why, when that had happened, the government had allowed negotiations to be carried out with a view to obtaining a waiver for Irving.
"My simple argument is, are we using a system which presumably is to prevent alleged terrorists from coming to New Zealand to stop historians from getting on planes," Amery said.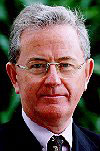 Last week, Cullen (left) said New Zealand's borders were closed to Irving.
"He can say whatever he wants to. Nobody is going to stop him saying it... it's just not going to be here," he said.
Cullen, who is also a historian, has made it clear he is not impressed by Irving's theories on the holocaust or insinuations that the New Zealand Government was being manipulated by a small group of people.
"Underlying that is that long historical paranoia about some notion there is some Jewish conspiracy to run European civilisation.
"It is just vomit-inducing, that was the background to what happened in the 1930s and 1940s," Cullen said earlier this year.

- NZPA