[images added by this website]
---
Tuesday, August 10, 2004

Holocaust Author not Welcome
By Rachel Walsh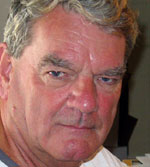 BRITISH holocaust historian David Irving (right) says he will defy New Zealand immigration authorities and visit New Zealand, despite being barred from the country. The controversial academic is automatically denied entry to New Zealand because he has been deported from another country. However, Irving said he intended to keep his appointment to speak at the Wellington Press Club next month.
Prime Minister Helen Clark said she would be "astonished" if he was allowed in. "It would take a special directive to give him entry," she said. Despite the Prime Minister's words, Irving remains adamant about his visit. "I know exactly what the legal position is and I will be in New Zealand on the time and date that I've specified," he told reporters.
Irving's holocaust denial views have made him a controversial figure, and he was deported from Canada in 1992. The New Zealand Jewish community welcomed the stand made by immigration officials. "It means that his presence here to spread the usual anti-Jewish messages will be denied," New Zealand Jewish Council president David Zwartz said.
"There will be relief, particularly by those who survived the Holocaust, which he said didn't happen, but also those members of the New Zealand Jewish community that lost members of their family in the Holocaust," Zwartz said. Immigration Service spokeswoman Kathryn O'Sullivan said under the Immigration Act Irving was automatically denied entry and would have to apply for a special direction to enter New Zealand.
Irving said he did not intend to make such an application. The New Zealand Jewish Council initially made a request to Ethnic Affairs Minister Chris Carter that Irving be kept out of New Zealand. The council said in an earlier statement Irving was "well known for his anti-Jewish writings and activities, and was found by the High Court in London in 2002 to be racist, [and] an active Holocaust denier".
Zwartz said the people who have said he should be allowed here, to uphold freedom of expression, seemed to "overlook the fact that his views were already widely known and available through his website, tapes, books and videos".
Green MP Keith Locke has accused the Immigration Service of not upholding the right of free speech in its refusal to allow Irving entry. National Press Club president Peter Isaac said Irving should still be allowed to come to speak. "The bulk of people I spoke to indicated that we want to make up our own minds, we want to hear this man directly, find out about him and how he holds those views."



Dossier: attempts by New Zealand Jews to stop David Irving's 2004 visit