[images added by this website]

This is a free country. Provided people do not threaten others' lives, or damage an individual's reputation untruthfully, or excite hatred or ill-will against a racial group, they are free to speak here.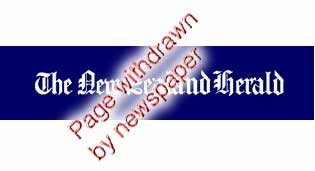 Auckland, Tuesday, August 10, 2004
[Write to the NZ Herald's Editor:

]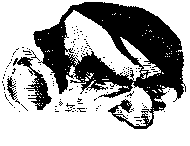 David Irving comments:
IF ASKED, here is my answer: I shall duly present myself at the airport in California for my flight to New Zealand in mid September. My baggage is packed, the tickets are bought, and a ton of books has been sent on ahead to six cities.
If sane counsels prevail in Wellington, I will complete my visit to the country peacefully; I shall rely on the security authorities of the country to uphold the country's Bill of Rights, which guaranteed that "Everyone has the right to freedom of expression, including the freedom to seek, receive, and impart information and opinions of any kind in any form," the last time I checked.
Of course, like Boxer the Carthorse in George Orwell's Animal Farm, my eyesight may be failing and I may have missed out some small print beneath those fine principles, reading roughly, "Some restrictions apply" -- e.g., you are entitled to think what you want and express those opinions, except about certain events in history, or about certain groups involved in them.
Nope, I have rubbed my eyes, and those restrictions aren't up there yet: and, unless Helen Clark and Mike Cullen go bonkers, I don't expect them to be included in the Bill of Rights before mid-September.
So: No restrictions on free speech apply -- yet. Of course, if David Zwartz and his fellows have their way, this may yet prove to have been the twilight year of free speech Down Under. ¡Vamos a ver! Events at Los Angeles International Airport next month will show.
I shall invite New Zealand's broadcast media to be there to witness them.

Editorial

Grave vandals simply a lunatic fringe

SOMEWHERE in Wellington there is a particularly sick individual, and probably more than one. While a lone vandal could have committed the desecration of 16 Jewish gravestones at the Bolton St Cemetery three weeks ago, a second attack, vandalising more than 90 graves and a prayer chapel at the Makara Cemetery in a single night, seems too much for somebody acting alone.

[...]

Rest deleted

WE regret to say that the online staff of the New Zealand Herald have required us on Wednesday, August 11, 2004 to remove the remainder of this article from the website. It may be that they themselves had come under pressure. We consider their attitude to be at variance with the spirit of the Internet, but have little choice in the matter.

[Write to the NZ Herald's Editor:

]


Dossier: attempts by New Zealand Jews to stop David Irving's 2004 visit