---
Jerusalem, July 28, 2004
Holocaust denier may be barred from NZ
By TIA GOLDENBERG AND JPOST.COM STAFF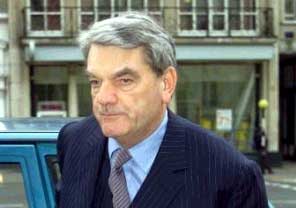 British historian and Holocaust denier David Irving: Photo: AP
THE New Zealand Jewish Council is urging the New Zealand government to refuse entry to British Holocaust denier David Irving from speaking at the National Press Club in September.
"We hope the government will apply the law and not let him in," said Council president David Zwartz (left).
He said Irving's entry into New Zealand would violate the country's immigration act, which does not allow entry to someone who has been barred from another country. Irving is forbidden from entering Australia.
The New Zealand government, Zwartz said, has the power to make an exemption. The Jewish Council hopes to thwart that possibility.
A source from the New Zealand Immigration Service said Irving would most likely be denied entrance due to his controversial past.
Rabbi Shmuel Zionis of Chabad in Auckland told Army Radio Wednesday morning that New Zealand should follow in the footsteps of Australia, Canada, and Germany and close its gates to Irving.
"The community asked one of the ministers to deny him entry to New Zealand, for the same reason he's not allowed to enter several other countries," Rabbi Zionis said.
Several months ago two Israelis were arrested as they attempted to illegally obtain New Zealand passports.
New Zealand officials allege that the two were employed by the Israeli Mossad, and diplomatic relations between the two countries have been since strained.



Dossier: attempts by New Zealand Jews to stop David Irving's 2004 visit
FAQ: Answers to frequently asked questions about Mr Irving's visit
Steven Sedley writes a letter on Mr Irving and free speech | The name rings a bell
Outrage at mystery attack on Jewish gravestones | Suspicion voiced that Mossad vandalized cemetery
Among things that are sick in NZ society: The spies who stole my name: Mossad agents stole the identity of a paraplegic, knowing he was crippled for life