[images added by this website]

---
Monday, March 8, 2004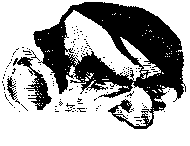 David Irving comments:
WHY post this story on our website?
Well, it is a victimless crime, in a sense: it was all within the family. And it combines two areas where Jews feel they are stereotyped, as fraudsters and porn-merchants.
If they put their house in order, it will prevent us from highlighting such stories.

U.S. authorities charge 2 Israeli citizens with fraud
By Nathan Guttman,
Haaretz Correspondent in the U.S.
WASHINGTON -- American federal authorities over the weekend filed indictments against two Israeli citizens suspected of defrauding the owners of several companies of $40 million. Daniel Nishri and his brother Avner, former Israelis who now live in Belgium, were arrested on Thursday and charged with seven counts of fraud, which carry a maximum penalty of 35 years in prison.
Most of the acts of fraud were committed against Ami and Sarit Shafrir, residents of Los Angeles and the owners of a number of successful companies for phone sex as well as internet dating sites, including the popular Jewish dating site J-Date.
The brothers in 1999 met Sarit Shafrir, who was at the time in the process of divorcing her husband. Daniel Nishri impersonated a banker and lawyer and persuaded Shafrir to invest in fictitious companies, as he gradually gained control of the assets of five companies owned by the Shafrirs. According to the indictment, the brothers transferred the assets from the Shafrir-owned companies to their fictitious ventures, filing around 100 legal suits against Shafrir, with the aim of obtaining all of her assets.


Our dossier on the origins of anti-Semitism