[image added by this website]

Syracuse, New York, Wednesday, February 11, 2004
---
New York State News
Teacher's lesson on the pros and cons of Hitler draws anger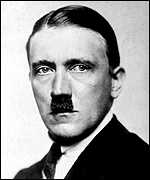 VOORHEESVILLE, N.Y. (AP) -- A high school teacher here has been ordered to apologize for asking students to debate the pros and cons of Adolf Hitler.
Anne Lyons instructed her global history students to debate the positive and negative effects of Hitler, Benito Mussolini and Joseph Stalin as part of a Feb. 5 [2004] lesson exploring how dictators rise to power.
When students asked how they could possibly defend Hitler, Lyons pointed to medical experiments conducted on Nazi concentration camp prisoners, which she said led to medical advancements, the Times Union of Albany reported in Wednesday's editions.
"I believe it was inappropriate and insensitive to the Jewish students," said Mark Diefendorf, principal of the suburban Albany high school. "She has been asked to apologize to the class. If that will save her job, I don't know."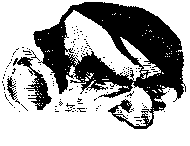 David Irving comments:
SO much for the balanced view of global history in New York state schools.
As for a small-world view, the name Shelly Shapiro sounds familair. Oh yes, she was the one who headed the witch hunt against Fred Leuchter in Massachusetts, for practising as an engineer (which he didn't) without a licence (as do thousands of other Massachusetts engineers). Or am I mistaken? How insensitive.

Several angry parents called the school demanding that officials investigate the lesson. Three parents asked that their children be removed from Lyons' class.

"We don't think the teacher is anti-Semitic," district Superintendent Allan McCartney told the newspaper. "We think what she said may have been misunderstood."

Still, Diefendorf said the lesson was probably unsuitable to present to 14- and 15-year-old students.

Shelly Shapiro, who heads Albany's Holocaust Friends and Survivors Education Center, said the center will hold a previously scheduled workshop for school districts across the region in April.

An attempt to reach Lyons Wednesday at the high school for comment was unsuccessful.


Obituaries of Lady Diana Mosley: words of quiet praise for Hitler
Chicago Glenview bank praises Adolf Hitler as a great economic leader | bank apologises to ADL | too late, ADL forces bank president to resign
Churchill's pre-war praise for Hitler (where is that quote?)