Tuesday, October 7, 2003
---
"A champion of Israel"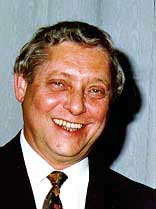 [Sudden death smites Israel Asper, Canadian newspaper dictator, at 71]
Attention News Editors:
CanWest Global Communications Corp
WINNIPEG, Oct. 7 (CNW) - CanWest Global Communications Corp and the family of I .H. Asper O.C. O.M. Q.C. are sad to announce the passing this morning of Israel Asper, Founder and Chairman of CanWest.
Mr. Asper was admitted to St. Boniface Hospital Winnipeg at approximately 9.30 am this morning and he passed away shortly after in the presence of his immediate family, wife Babs Asper, sons David and Leonard and daughter Gail.
Mr. Asper retired from his position of Executive Chairman of CanWest in January 2003, to devote more of his time to his many philanthropic pursuits, including in particular the establishment in Winnipeg of the Canadian Human Rights Museum.
Mr. Asper remained active in the company as Chairman of the Board. In anticipation of Mr. Asper's retirement, the Company initiated an orderly transition of management with the appointment in 1999 of Leonard Asper as President and Chief Executive Officer. Mr. Asper's successor as Chairman will be addressed by the Board in due course.
The company feels a sense of profound loss on the passing of our founder, who distinguished himself as a visionary business leader, a caring leader in his encouragement and financial support of worthy causes, and as a champion of Israel. Funeral arrangements will be announced by the family.
CanWest Global Communications Corp. (NYSE: CWG; TSX: CGS.S and CGS.A; www.canwestglobal.com) is an international media company. CanWest, Canada's largest publisher of daily newspapers, owns, operates and/or holds substantial interests in newspapers, conventional television, out-of-home advertising, specialty cable channels, radio networks and web sites in Canada, New Zealand, Australia, Ireland and the United Kingdom. The Company's program production and distribution division operates in several countries throughout the world.


Mysterious new agency, well funded, threatens existence of Canada-Israel Committee and Canadian Jewish Congress