As-Safir, Beirut, Wednesday, 19 March 2003.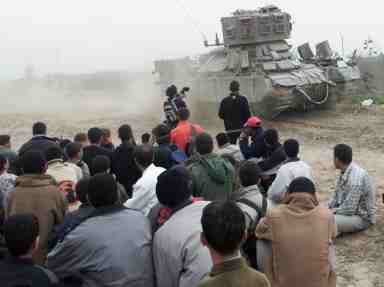 Eric Mueller comments:
THIS item, which I have translated from the Arabic for the AR-Online website, reports that Palestinian and Western demonstrators gathered to protest Rachel Corrie's murder, and that Israeli tanks attacked them.

Arabist Eric Mueller is this website's expert on Middle Eastern affairs.
Occupation forces open fire on foreign peace activists
SECURITY sources and Palestinian eye-witnesses report that the Israeli occupation army opened fire in the direction of hundreds of Palestinian and dozens of foreign peace activists.
The demonstrators were planting olive and palm trees in the spot where a bulldozer belonging to the occupation forces killed the American peace activist Rachel Corrie in the al-Salam district in Rafah in the south of the Gaza Strip. The demonstration was an expression of their protest and denunciation of the killing.
The sources said that about thirty American and European activists in the solidarity movement with the Palestinian people joined about 300 Palestinians to express their "protest and rejection" of the killing of the American activist who was run over last Sunday by an Israeli army bulldozer.
Eye-witnesses reported that seven Israeli tanks penetrated several dozen meters into the al-Salam district and opened fire with bullets, tear gas canisters, and percussion explosives in the direction of the Palestinian and foreign demonstrators who tried to put roses on the tanks shortly before the vehicles withdrew.
An AFP photographer reported that a number of foreign activists sat down on the ground in an attempt to prevent the advance of the tanks, whereupon they opened fire. A medical source said that a number of demonstrators, two of them foreigners, lost consciousness from the choking effects of the tear gas. They were treated at the scene.

AFP

Like Tienanmen Square, but different ending Israeli Army Bulldozer crushes U.S. Heroine, 23, to Death | shocking photographs