New York, Sunday, March 16, 2003
Israeli Bulldozer Kills U.S. Woman, 23
By IBRAHIM BARZAK Associated Press Writer
GAZA CITY, Gaza Strip (AP) -- An American woman in Gaza to protest Israeli operations was killed Sunday when she was run over by an Israeli bulldozer, witnesses and hospital officials said.

Eric Mueller comments:
Palestinians and Iraqis are killed on a daily basis, many in ways at least as gruesome as the way this young American woman perished.
Nevertheless, her death demonstrates with poignance the fact that Arabs are not the only victims of Zionist crimes.

Arabist Eric Mueller is this website's expert on Middle Eastern affairs.

Rachel Corrie, 23, a college student from Olympia, Wash., had been trying to stop the bulldozer from tearing down a building in the Rafah refugee camp, witnesses said. She was taken to Najar hospital in Rafah, where she died, said Dr. Ali Moussa, a hospital administrator.

Greg Schnabel, 28, of Chicago, said the protesters were in the house of Dr. Samir Masri. Israel almost daily has been tearing down houses of Palestinians it suspects in connection with Islamic militant groups, saying such operations deter attacks on Israel such as suicide bombings.

"Rachel was alone in front of the house as we were trying to get them to stop," Schnabel said. "She waved for the bulldozer to stop and waved. She fell down and the bulldozer kept going. We yelled, 'Stop, stop,' and the bulldozer didn't stop at all. It had completely run over her and then it reversed and ran back over her."

Witnesses said Corrie was wearing a brightly colored jacket when the bulldozer hit her. She had been a student at The Evergreen State College in Olympia and would have graduated this year, Schnabel said. (more at bottom)

The Israeli military and the U.S. State Department had no immediate comment.

Groups of international protesters have gathered in several locations in the West Bank and Gaza during two years of Palestinian violence, setting themselves up as "human shields" to try to stop Israeli operations.

Corrie was the first member of the groups, called "International Solidarity Movement" and backed by Palestinian groups, to be killed in the conflict. Several activists have been arrested in clashes with Israeli forces, and some have been deported by Israeli authorities.

Schnabel said there were eight protesters at the site in Rafah, four from the United States and four from Great Britain. "We stay with families whose house is to be demolished," he told the Associated Press by telephone after the incident.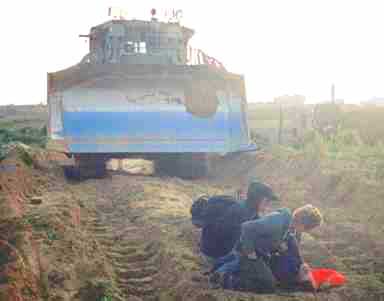 Mansour Abed Allah, 29, a Palestinian human rights worker in Rafah, witnessed the incident. He said the killing should be a message to President Bush, who is "providing Israel with tanks and bulldozers, and now they killed one of his own people."
Israel sends tanks and bulldozers into the area almost every day, destroying buildings near the Gaza-Egypt border. The Israelis say Palestinian gunmen use the buildings as cover, and arms-smuggling tunnels dug under the border terminate in the buildings.
According to interim peace accords, Israel controls the border area, where there are clashes almost daily between Palestinian gunmen and Israeli soldiers.