The word Jew in any form other than a noun is derogatory. -- Arnold G Konheim
Fish News
---
November 25, 2002
Man Wants Jewfish Creek Renamed, Calls it Anti-Semitic
Associated Press
KEY LARGO -- Last year, a Georgia scientist successfully lobbied that the official name of Florida's largest grouper species be changed from jewfish, which he found offensive, to goliath grouper.

Now, another man is seeking that the name of the narrow Key Largo channel known as Jewfish Creek also be amended.
Arnold G. Konheim of Washington, D.C. has petitioned the U.S. Board on Geographic Names to change the name.
"The word Jew in any form other than a noun is derogatory,' Konheim wrote in his name-change application.
Konheim's quest has some support, but the issue hardly seems to be a divisive one.
Jim Boruszak, the congregation president of the Keys Jewish Community Center in Tavernier, said the issue is irrelevant.
"It is not a subject of conversation among Jewish people around here,' Boruszak said. "Most people don't even know the name of the fish has been changed.'
Monroe County commissioners voted unanimously last week against re-naming the creek, which has been known as Jewfish Creek for since the early 1900s, at least. In fact, postal records show that the town known now as Key Largo was called Jewfish until 1921.
The commissioners' ruling is significant because the federal name-change board considers local opinion when making its decisions.
Gary Grossman, the scientist who lobbied to have the fish species name change, says the continued usage of the word Jewfish is anti-Semitic.
"I don't believe anybody would let a derogatory geographic name stand for an African-American or a Hispanic in South Florida right now,' said Grossman, a fish ecologist at the University of Georgia. "So I don't understand why this is any different.'

Related items on this website: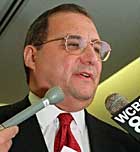 David Irving, A Radical's Diary, Dec 2, 2001: "Every time I drive down the Florida Keys, I wonder how long it will be before that nice Mr Abe Foxman of the Anti-Defamation League (friend and benefactor of billionaire tax-fraudster Marc Rich) succeeds in getting Jewfish Creek renamed to something else."