[Department of "What-Us-a-Global-Conspiracy?"]

Tuesday December 5, 2000

(pictures added by this website)
WJC asks Interpol not to arrest Russia's Gusinsky
By Joan Gralla
NEW YORK, Dec 5 (Reuters) - The World Jewish Congress said on Tuesday it had asked Interpol not to arrest Russian media magnate Vladimir Gusinsky, charging that the Kremlin was pursuing him on political -- not criminal -- grounds.
Russia recently issued an international arrest warrant for Gusinsky, who heads the Russian chapter of the World Jewish Congress. He fled the country after he was jailed for three days in June on fraud charges.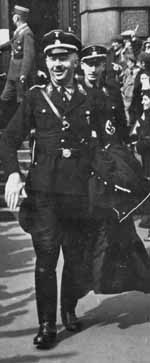 Elan Steinberg, WJC executive director, charged that Interpol was taken over by Reinhard Heydrich -- Heinrich Himmler's chief lieutenant in the Schutzstaffel (SS) (both pictured on right) -- and should not allow itself today to be used to track down a Jew who has said he was hounded out of Russia because his media empire criticized the Kremlin.
A spokeswoman for the Washington, D.C.-based Interpol office would not comment on whether the worldwide police agency would hunt Gusinsky. Nor would it comment on the agency's history during the Nazi era.
According to the Columbia Encyclopedia, Interpol, founded in Vienna in 1923, was disbanded in 1938 then reconstituted in Paris in 1946. It has 178 member nations who benefit from information provided regarding the whereabouts of international criminals.
Steinberg said that on Nov. 30 the WJC asked Interpol not to pursue Gusinsky. "It would set a precedent for their (Interpol) being used in a human rights case for political purposes," he said.
Steinberg charged that Interpol was used during the Nazi era to hunt down Jews and said it was "inconceivable" such an agency "would allow itself to become the instrument of political persecution against a prominent Jewish leader today."
Gusinsky has charged that his prosecution is a heavy handed attempt to throttle press freedom. NTV, the flagship television station of the media empire he founded, has been a frequent critic of Kremlin policy.
President Vladimir Putin says he views a free press as a vital element of a post-Soviet society, but has criticized some journalists for acting "against the state."
Gusinsky is charged with irregularities in buying a video company and illegally transferring assets abroad in a bid to avoid paying his media empire's vast debts.
Russia's state-dominated natural gas monopoly on Tuesday said it had possession of the largest unrestricted voting stake in NTV. In mid-November, Gazprom reached a deal with Gusinsky to cover his debts to the utility.
Steinberg also attacked Interpol for not dealing more frankly with its history.
Interpol's web site, http://www.interpol.int, says the group ran satisfactorily until the outbreak of World War II, skipping over the years after 1923 until 1946, when it says a meeting was held to revive it.
Gusinsky is not the only media chieftain to feel the Kremlin's heat. Armed and masked police on Tuesday raided the offices of ORT television, Russia's most-watched station in which the state has a 51-percent stake and controversial businessman Boris Berezovsky 49 percent.
Russian news agencies said the ORT search was linked to charges the station failed to pay duty on imported videos. Berezovsky, who also is Jewish, like Gusinsky is abroad and refusing to answer prosecutors' questions in a separate criminal case.

© 2000 Reuters Limited. All rights reserved.