APRIL 19, 2000
---
[Pictures added by this website]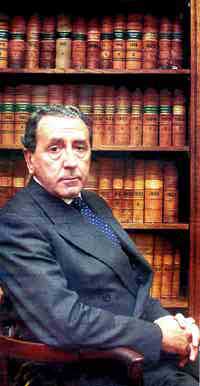 Not Crazy, but Evil
A conversation with the historian David Cesarani about the after-effects of the Irving Trial
David Cesarani is Professor of Modern Jewish History and Directorf of the Institute of Holocaust Studies at Southampton University
Die Zeit: Did the clear Judgment against David Irving surprise you?
Cesarani: Yes, because it went much further than I had expected and hoped. The Judge accepted that the totality of the evidence was overwhelming. Historiography does not depend, as Irving suggests, on one single document or a chain of documents, but the entire resource of available sources has to be taken into account - clues, recollections, eye-witnesses.
Die Zeit: Did the Irving Judgment have a political dimension because the Judge, Charles Gray, (above), was aware of the dangers of an Irving victory?
Cesarani: No. He had to decide whether Irving was an unappetising historian who had made "honest" mistakes, or whether there was a dedicated ideologue at work. Clearly the latter, was his answer.
Die Zeit: Even so, Deborah Lipstadt and her team dreaded a defeat.
Cesarani: That was because the defence made far too much effort to display Irving as a crazy anti-Semite. As such, he would have been capable of making "honest" efforts, as he would be blind to other insights. What mattered was to prove that here was a rationally thinking man deliberately ignoring historical sources for evil motives. In other words, Irving is evil, not crazy.
Die Zeit: What surprised everybody was that the defence showed its greatest weaknesses when it came to Auschwitz.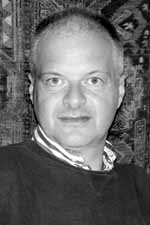 Cesarani: There were indeed some scary moments. When Robert Jan Van Pelt (left) testified we were all mildly shocked that even such an outstanding expert as he was not in a position to establish clarity on such things as the disposal of the murdered Jews.
Die Zeit: The renowned historian [Professor emeritus] Donald Cameron Watt still maintains that historical research needs its David Irvings; the military historian John Keegan even thinks that Irving will have more to tell us, in future, if he learns from his mistakes, than a Deborah Lipstadt.
Cesarani: I find that extraordinary. Irving has had far too easy a run for more than thirty years at the hands of the historical establishment. It was condescending, it did not take him, the non-academic, seriously enough, it praised his diligence, but it did not check his works seriously enough. That is why it is today deeply compromised.
Die Zeit: Isn't an Irving in the underground even more of a danger?
Cesarani: No, his effect is from now on reduced, but he will obviously carry on his deviltry in the Internet.
Die Zeit: Do you share the concern that uncomfortable Holocaust researchers may in future find themselves tossed into Irving's corner?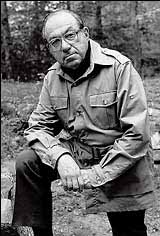 Cesarani: Not at all. Solid, controversial research will become easier than ever from now on. Only pseudo-research will be easier to unmask, thanks to this Judgment.
Die Zeit: Is it a legitimate question for research to investigate the real number of Jews who were murdered, which your colleague Raul Hilberg calculates at 5.1 millions?
Cesarani: I don't really consider that a relevant question. But Hilberg is willing to concede that he is wrong, if new Russian sources reveal the fate of half a million Russian Jews.
Die Zeit: How is it with other controversial issues, for example those who doubt the morale uniqueness of the Holocaust, the topic of Jewish resistance, the Instrumentalisation of the Holocaust, and the origins of the "Final Solution."
Cesarani: Many of these debates, for example about the time when the Jewish liquidation began, ought to be concluded shortly. There are important new investigations by Israeli authors. They have looks at the very delicate question of Jewish collaboration with the Nazis. That will open a new debate, which was originally triggered by Hannah Arendt...
Die Zeit: ... who was accused of 'anti-Semitism' for her pains ...
Cesarani: ... and which is very painful for us Jews, just as painful as the debate on the role of Germany's Joe-Six-pack during the Nazi era is.

Die Zeit: What do you have to say about the these of the American Jewish historian Peter Novick (right), that the Holocaust is being instrumentalised [i.e., exploited financially and in other ways]?
Cesarani: Novick is brilliant when he writes about the first post-war decades. He is less convincing in his analysis of the more recent past. He writes about Jewish organisations, which exploit the Holocaust, to create Jewish solidarity and to combat anti-Zionism; he speaks of a competition for victim-status in American society, of market-forces...
Die Zeit: He talks of the "Holocaust Industry".
Cesarani: He is talking particularly there of the consumer demand. For Novick's theory to hold water, you need something like an anti-Jewish conspiracy theory, whereby the Anti-Defamation League, Hollywood producers, writers, and professors are all collaborating to spread Holocaust-awareness. And that may indeed be so. But Novick also concedes that the increased interest in the Holocaust is part of a process of all ethnic groups to capitalise on the suffering of their ancestors.
Die Zeit: All the more important therefore is absolute truthfulness in dealing with the past. In the Holocaust Museum in Washington there is no mention of the communist victims of the Holocaust.
Cesarani: That is wrong and must be corrected. But take Germany for example. At Sachsenhausen and Buchenwald you find good attempts to tackle the past, with a bit of both in them: oppression by both National Socialism and Communism. You've got to strike the right balance. Germany will have grown up when there is also a memorial for those expelled from the former eastern German territories, and for the women raped and murdered by the Red Army. * Those were a part and parcel of the suffering of the Germans that has to be understood and remembered. If memories are suppressed, the bitterness remains.
Die Zeit: What is the purpose of remembering? In a world of moral uncertainty, doesn't the Holocaust provide an ultimate moral certainty?
Cesarani: Hitler was the Devil, and Auschwitz was Hell; that's how we understand and define evil today. That may not be the best way, but the Holocaust has without doubt become one moral absolute in a world in which not many still believe in God.
Interview: Jürgen Krönig
---
* Website comment: Ratface Cesarani does not appear to have mentioned the saturation-bombing war.