London, Friday April 21, 2000
---
Page 25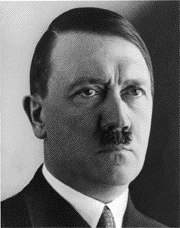 HITLER'S REPUTATION IN TATTERS
Holocaust 'inexcusable' says Judge
THE German war leader Adolf Hitler has had his reputation finally destroyed after a lengthy high court action.
In a two-hour judgement Mr Justice Cocklecarrot described the Fuhrer as a "formerly respected statesman who has allowed himself to fall prey to right-wing obsessions and racist ideologies".
"His early work showed great promise," said the judge, "and he helped to create employment and build autobahns and Volkswagens. However, I have to conclude that Mr Hitler has ended up as a man with no respect for the truth who came to believe all the lies that David Irving told him." After the hearing Mr Hitler said he would appeal.
---
A note to this Website's German readers: Achtung: The above item is satire. Anmerkung für unsere werten deutschen Website-Besucher: obiger Aufsatz wird nicht ernsthaft gemeint; es handelt sich um englischen Humor.