London , Saturday, January 22, 2000
---
Memorial day for Holocaust victims
BY ROLAND WATSON
CHIEF POLITICAL CORRESPONDENT
Picture added by Website: Victims
in Buchenwald concentration camp
AN ANNUAL memorial day for Holocaust victims is to be announced by the Government next week. Robin Cook, the Foreign Secretary, will tell a 40-nation Holocaust conference in Sweden that Britain is to fall in line with other continental countries in holding a day of remembrance. January 27, the anniversary of the liberation of Auschwitz, will from next year provide an annual mark of respect for victims of Nazi persecution.
Germany and Sweden already have similar commemorations on the same day, and it is also established as the European Union day of genocide remembrance.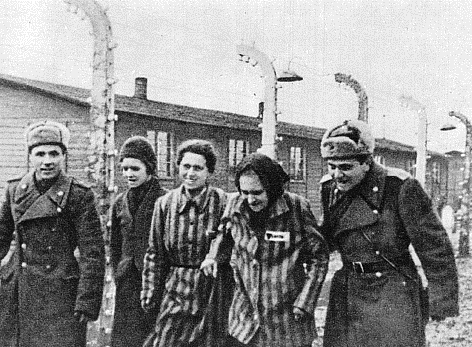 Mr Cook will tell the Stockholm conference that as well as looking back to the Second World War, the day would act as a continuing commitment to oppose racism, anti-Semitism and genocide.
His statement will be echoed in Britain, where Jack Straw, the Home Secretary, will make the announcement to MPs. Mr Straw will say that the day will offer an opportunity for people around the country to remember and reflect, although there are no plans to build a physical memorial.
The announcement follows a government decision to back away from making the denial of the Holocaust a criminal offence.
In Opposition, Tony Blair had said there was a "very strong case" for a law similar to ones in Germany and Austria, where it is an offence to deny the Holocaust.
Picture added by Website: Russians liberate near-death Auschwitz prisoners