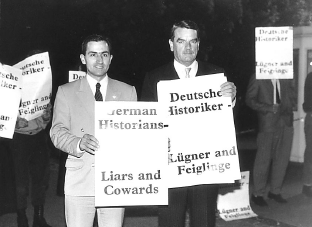 London, November 17, 1998

AS WE HAVE learned today from early editions of The Daily Telegraph, a Spanish Court has yesterday sentenced Spanish publisher Pedro Varela to five years in jail under Spain's new laws for the suppression of free speech. As Action Report announced earlier, Spanish police raided his Barcelona bookstore and publishing firm last year and seized thousands of books.

Censorship: The news item was removed from all but the earliest editions of the British newspaper. AR-Online will update this page as soon as more information becomes available. PLEASE MONITOR YOUR LOCAL PRESS
Those interested in the art of journalism to destroy reputations by the addition of loaded adjectives will like the way that the normally sober Daily Telegraph reported this same story in its on line edition (on the right). One wonders what the British press would have made of such police raids in General Franco's time...?
Neo-Nazi shop owner jailed
PEDRO VARELA, 41, owner of a neo-Nazi bookshop in Barcelona, was sentenced yesterday to five years in prison on charges of spreading racial hatred and denying that the Holocaust happened. Police raided his shop and house two years ago and seized thousands of neo-Nazi books, publications and videos. A law passed two years ago in Spain makes it a criminal offence to justify genocide and promote racial hatred. Tim Brown, Madrid