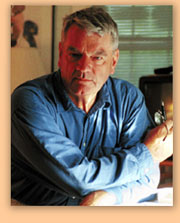 David Irving
[Photo by Michael Hentz for The New York Times]
---
Letter to the Editor
The Globe & Mail
London, October 22, 1996
published
---
London, October 22, 1996
Sir ,--
YOU published (Oct. 19) Jacob Heilbrunn's amusing account of my lunch-time talk to a small private audience in Washington.
He disagrees with Professor Gordon Craig's statement that dissident historians like myself play a key role in new scholarship. "Challenges to the accepted historical verities," writes Heilbrunn, "have been produced by many scholars over the years, scholars who are constantly wrangling over every conceivable aspect of German history. Mr Irving has made no contributions to these debates."
I beg to differ: the most famous debate of all, the Historikerstreit in Germany, was triggered by the late Professor Martin Broszat's broadly hostile review of my biography Hitler's War in the Vierteljahrshefte für Zeitgeschichte, October 1977, because Broszat accepted my main thesis that there is no evidence of any order by Adolf Hitler for the Final Solution. (Until then no historian had dared to state this obvious fact, let alone agree with me.)
In grudging praise at the end of this review Broszat acknowledged that thanks to me, my re-interpretation of the Führer had obliged everybody else to go back to basics. "Whatever his wrong conclusions," wrote Broszat, "he has drawn attention to the previously inadequate state of our knowledge and interpretations."
As an example of other historians who have moved and shaken, Heilbrunn wrote in the original of his article, published by the New Republic but omitted from your text, that the English scholar John Charmley created a stir when he argued in Churchill --The End of Glory that Churchill was a bumbler who destroyed the British Empire by refusing to accept Hitler's well-meant peace offer in 1940. Charmley however does not deny that his book, published early in 1993, was inspired by my own seminal work, Churchill's War , first published in 1987.
No contribution? Game and set to me, I believe, if not yet match as well.
Yours faithfully

David Irving
... back to letters index