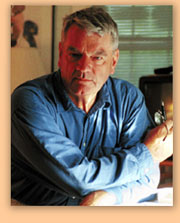 David Irving
[Photo by Michael Hentz for The New York Times ]
---
Letter to the Editor
The Evening Standard (London)
---
Published January 31, 2001
The Londoners Diary\
The Evening Standard
Fleet Street,
London EC4
January 30, 2001
The Lies of John Lukács
HYAM Maccoby, reviewing The Hitler of History by the Hungarian-born author John Lukács (Evening Standard, Jan 29, page 53), reveals that I warned his American publisher of potential libel action if they sold the book here, and he regrets that Weidenfeld & Nicolson, the UK publishers, have consequently "toned down" the New York edition's strongest strictures against me. I too regret their omission, but for a different reason. They would have vastly enriched me.
Without making the least attempt to check back with me, Mr Maccoby's friend Lukács accused me of inventing documentary sources and of making up quotations for my books. Weidenfeld's were not reckless enough to print such things, because they knew that no judge -- and I mean NO judge -- of the Queen's Bench would have shown the slightest sympathy for them or their offshore author.
Mr Maccoby should not chide a reputable publishing firm, which has itself published many of my works, for their refusal to take such unnecessary risks. As for what he calls the "total failure" of my action against Lukács's compatriot Deborah Lipstadt: it ain't total until our Court of Appeal says so.
Yours faithfully,

[Index on John Lukacs case]