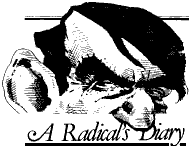 July 1, 1993 (Thursday)
Koblenz (Germany)
An odd day. Breakfast around 8:30 a.m., at Bundesarchiv at 9:05 a.m., to dot i's and cross t's [in my Goebbels biography draft], literally: checking missing words in transcripts of diaries etc; also brought set of Moscow [Goebbels diary] fragments as a gift for their Goebbels collection.
However: from 9:30 to 10:20 a.m. lengthy discussion with Dr Posthuber and Dr Büttner, deputy director of the archives. Latter handed to me a letter dated 1.7.1993 forbidding me further use of the Bundesarchiv because of the Einreiseverbot. (It turned out that Herr Scharmann in Lesesaal had received Mitteilung from Bundesinnenministerium that I had Einreiseverbot and had to notify authorities if I appeared). Büttner stated that I would not be allowed to work.
Posthuber pleaded for me not to withdraw my collection. I stated that of course I could not leave my collection in an archives which I am not allowed to visit! Büttner said I could appeal in courts. I said, why should I? He asked how they should return the Sammlung, I said mit Lkw auf Bundeskosten. I had brought it here at my expense. A lengthy discussion, friendly but embarrassing for them, ensued. I said to Büttner, "Ich merke, es ist Ihnen nicht wohl in Ihrer Haut." He confirmed he had never had to do this before; his colleague seemed to remember another case, seemed better informed about Canada, etc. I said mockingly: "Sie sind gut informiert," and said that if Bundesrepublik [text missing?]
I requested permission to carry out the final Goebbels researches for which I am in Koblenz, namely filling gaps in the diaries, etc (and I handed the Bundesarchiv the Moscow fragments which I had brought with me.) I asked if we could take 1.7.1993 as being in Kraft ab Mitternacht. After some pondering, he decided he could not. (Later when Büttner came down to Lesesaal, I said er schlüge die Hacken zusammen und sagte "Zu Befehl" as had many Germans in the past.) As for "damaging the interests of the Bundesrepublik." I said that this measure would damage the republic's interests far more: I could not ignore it in public, and I would withdraw my collection. Posthuber stated he believed I was also banned from the Moscow archives; ho, ho! I said this was untrue, but was typical of the rumours circulating against me. I accused Büttner to his face of mangelde Zivilcourage.
Comment: What they did not know -- these people trying to injure me -- is that only yesterday I was reflecting that this is probably the last time I shall need to use the Bundesarchiv for several years, as from now on I have no more German themes lined up to write about. Even so, it is a serious and extraordinary step for them to take, and I must consider whether to get [Rechtsanwalt] Dr [Hajo] Herrmann to protest. Büttner rather implied that it was hopeless to expect the Verwaltungsgericht to reverse the decision.
[...]
1:15 p.m. Dr Ernst Günther Reuth phoned, said he'd write it up. "Eine Tonne Akten!" Faxed all the papers to him, with difficulty.
I recall that Posthuber also seemed aware of the correspondence between the Friedrich Murnau Stiftung and the Bundesarchiv (in which former asked latter if it was politically correct to provide me with still photos for the Goebbels biography!)
3 p.m. phoned Dr Reuth's office. He was unterwegs. Phoned The Times in Bonn: "I'll write something." Phoned Daily Telegraph: "We'll tell Robin Gedye also in Bonn." Phoned Malinowski [at Der Spiegel]: away, his deputy was rather sarcastic, in effect I had it coming to me. I pointed out that Meinungsfreiheit is unteilbar. Phoned Koch in Hamburg: er geht der Sache nach, said they didn't need more from me, their files on me were full. Phoned Jobst Knigge [of DPA in] London: er macht gleich eine Meldung.
Phoned Lida Baarova (Lundwall) about Sunday: she thinks Wimbledon will take up her whole day; I said I'd come in evening, she muttered about making supper.
5:20 p.m. phoned Reuth in Berlin. Not him. Says he'll write something tomorrow, will contact Innenministerium usw., thematisieren, and publish Saturday. [Frankfurter Allgemeine Zeitung killed his story]. [. . .]
Paperwork until late; completed transcript of Gutterer diary.
[. . .]
July 2, 1993 (Friday)
Koblenz &endash; Munich (Germany)
Drove on to Munich, arriving at Munich at 7 p.m. Bought newspapers at Hbf. The Times published a proper article about the Bundesarchiv ban, but German newspapers (DPA) appear to have ignored it. Cowards.
Over to Ida's for the night. Her husband says now that his brother is beim Verfassungsschutz and they have a big dossier on me, he has been ordered to report on me. Democracies! I said that as I am doing nothing criminal they have no need to worry (but Ida is worried).