I have inflicted many thousands of pounds of legal costs on them, and I shall keep my powder dry.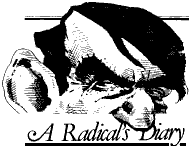 April 27, 2007 (Friday)
Madrid -- Lleida (Spain
TODAY I shall drive over to Barcelona, but the publisher I want to see is at a book fair in Bologna. It may even be true. I shall speak to a small private audience tomorrow, and then drive on Sunday down to Cádiz, on the other corner of Spain, the bottom left-hand corner by Gibraltar which is, oddly enough, not shown on my (Spanish) map.
The rain has stopped and the sun is smiling too. I am driving for the first time in two years -- I forget where I was in the meantime. The new edition of the Dresden book was delivered from the printer yesterday in England: most go to America, some to Warsaw, and the rest to Rugby.
Today is the last day to issue the libel writ against The Daily Telegraph [foolishly believing themselves safe, as I had just been sentenced to political prison in Austria for the next three years, the London newspaper had accused me in an article on February 24, 2006 of transferring assets to B. to keep them out of the reach of creditors -- a criminal action under the Insolvency Act. There were no such transfers. To the Telegraph's dismay, a court of appeal ordered my immediate freedom in December 2006].
Of course I cannot take this necessary final step, as I am now out of the U.K; I shall keep my powder dry.
April 28, 2007 (Saturday)
Lleida -- Barcelona (Spain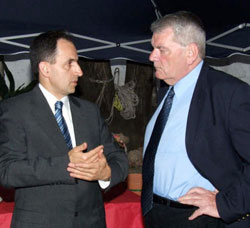 THIS is a big country.
At two pm I arrive at Barcelona, at the Librería Europea. About fifty have packed into a room to hear me speak. There is standing room only, although Pedro has been unable to advertise the meeting, at my request. It is an interesting evening.
Pedro Varela reminds them that the last time we met was on his birthday, October 3, 1989. I was staging a protest demonstration in Berlin outside the broadcasting center of Sender Freies Berlin in Masuren-Allee. SFB had just un-invited me from an historians' discussion panel, as all the other German historians had refused to sit at the same table as me.
Our placards that night read, "DEUTSCHE HISTORIKER - LÜGNER UND FEIGLINGE " - German historians are cowards and liars. (The public prosecutor in Nuremberg, as I later found out, actually issued criminal proceedings against me for race hatred because of the word German).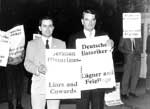 At a press conference that morning in Berlin's Hotel Kempinski, recalls Varela, I had told him and the world's press that in my opinion Germany would be reunited in twelve months' time. There were hoots of laughter from the disbelieving journalists: but on October 3, 1990, exactly twelve months later, German Reunification took place. As The Daily Telegraph reported that day, I had remarked that German journalists had the horizon of a lavatory lid. (I cannot claim the credit for that remark: it was used by Adolf Hitler against his generals: See The Memoirs of Field-Marshal Keitel, which I translated).
Varela and I share one other distinction. The Austrians imprisoned him too, for six months during a lecture tour of Austria, before releasing him without charge or apology. I served fourteen months, 400 days in solitary confinement in a Viennese jail under the same laws.

THE price of indepedendence. I tell this Spanish audience now that clearly something did happen in the camps in Poland, algo ha pasado; the railroad line going up into the forest at Treblinka just ends there, so something clearly happened to the people in the trains that went up there and did not return; I agree that the figures may be open to doubt; but what concerns me directly as an historian and biographer of both is the individual roles of Adolf Hitler and Heinrich Himmler in all this.

I tell them that the Höfle document, if genuine, is a crucial, vital, key piece of evidence. The Schlegelberger document, which conformist historians of course have to ignore, is the other piece of evidence that impresses. The audience becomes restless.
One or two audience members are disgruntled at this seemingly non-revisionist position, and one actually walks out. Question time is lively; there is the usual dunderhead who makes an endless speech instead of asking a question.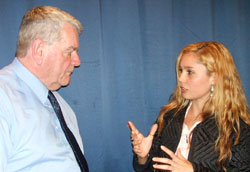 Melisa Scheuermann (right) buttonholes me afterwards; we gossip in Spanish for half an hour -- her accent betrays her immediately as Argentinian. She is the author of children's books, and her own gifted illustrations, strongly reminiscent of the work of Arthur Rackham, could have come from one of my mother's own books like The Dawnchild.
Afterwards Manfred, a German, drives ahead of me northwards out of Barcelona to pilot me to the apartment that has been offered to me for the night. I have been told only that it is "on the coast". After driving a hundred kilometers and forking out cash at four toll-booths I hail Manfred over; he reveals it is "only another fifteen or so kilometers." I am not pleased by this, since it is in totally the wrong direction from Cádiz. At eleven p.m. I give up, turn around, and set out back for Cádiz at once, after a needless 230 km detour!!!
April 29, 2007 (Sunday)
Barcelona -- Andalusia (Spain
I DRIVE all night. Just like old times. At eleven a.m. I am already at Alicante -- still on the autopista -- and here I persuade a hotel to let me go online. I email to Paul in Cádiz: "I am in Alicante, heading south. Drove all night from Barcelona. I shall probably be in Cádiz tomorrow afternoon, and would stay two nights perhaps; I shall enjoy a talk."
A long onward drive down to Andalusia. Arrive around seven-thirty pm and check into a hotel a stone's throw from where we used to stay in the 1970s. At least here in the south, unlike Catalonia, there are no highway tolls.
April 30, 2007 (Monday)
Andalusia (Spain
I AM surrounded by Very Common people, the English abroad. Liverpool, Birmingham, and Manchester accents abound. All the people I was so pleased to leave behind in England, they're all here.
I go for a stroll and try to get my bearings; the old hotel we all stayed in, in about 1973, is some way back towards the hills, its view of the Mediterranean now totally obscured by these modern concrete monsters, heaps of square blocks; and humans like ants, pink ants, are scurrying everywhere.
From Budapest, Réka has emailed to me this philosophy in Hungarian:
"The pessimist sees the darkness in the tunnel,
the optimist sees the light at the end of the tunnel,
the realist sees the approaching train's lights,
and the conductor sees three idiots on the rails."