It all makes me feel that much more secure. From far away, in a German prison cell, I fancy I hear Ernst Z. whispering, 'Not.'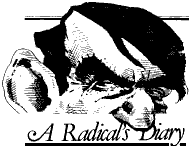 March 9, 2005 (Wednesday)
Missouri -- Arkansas
WAKENED at one a.m. in the morning by loud thumping on the door. I ignore it, and the thumping is repeated. I peer through the glass Judas hole -- it reveals what looks like a burly man in dungarees outside.
I put the chain-hook on the door and open it a few inches. Two men in police uniforms, the White one saying that the Michigan license tags on my red Chevy Suburban are expired (his colleague is a burly Black, in a woolly hat). At first I leave the chain-hook on the door, and ask to see their Police IDs; which they do not like -- but nor do they show any ID other than their uniforms, which anybody can buy on the Internet.
"We ran the tags and they came up expired." I tell them it is Avis's fault, it's a rental car. "Is Key West your permanent address, Sir?" says the White one. They have asked the front desk to show them my registration form.
I unchain the door, though it still seems a bit odd to me. They peer past me into the darkened room. "Would you just stand aside, Sir," says the White one. "What is the nature of your business?" They are civil enough. I say I am a writer, and offer to produce my British passport. "What are you doing here, Sir?" -- "I am a writer, driving 1,100 miles from Omaha to Baton Rouge. And very tired."
I still do not trust them. They might be anybody, posing in uniform. The Black says, "Can I see it," indicating the passport; after a moment, he nods and hands it back. Eventually they leave. Maybe a straightforward routine visit, late though it is -- tightened security under the Patriot Act and this country's self-inflicted "terrorism" terror. Or it might be something more sinister.
SEVERAL donations have reach the website since I announced yesterday that we have had none for ten days! Das haute hin, but we need funds to survive. $600 in two days. The enemy is resorting to increasingly dirty tricks, however. One email correspondent writes: "Did you know that the following message now appears under your webpage link when I do a Google search on your name: Web site of disgraced British Holocaust denier David Irving. Contains latest news about himself, as well as articles reproduced from the world media about ... This is different from what was there before, and I was wondering if this has anything to do with Google and its policy on free speech in Germany."

IN LONDON the legal battle is approaching its climax. On March 14 the Court will have the final all-afternoon hearing on my application that Deborah Lipstadt be ordered to pay all the costs for her misguided demand for all my assets -- an application which she has now had to withdraw.
Loser pays all. What goes around comes around. Bundles of documents are thumping on doormats, etc. Her lawyers, Mishcon de Reya, weep in a new affidavit that "Professor Lipstadt's costs in defending Mr Irving's libel action amounted to £1,360,551.98" -- roughly $2.5million. (Her publishers ran up another three million pounds bill in costs).
Yeah, right: a humble Emory University religious teacher can fork out that kind of money. In fact she paid nothing; as she has often boasted, and in great circumstantial detail. Her costs -- which consisted largely of the lavish (quarter-million dollar) fees paid to her expert witnesses to purchase their opinions -- were met by a consortium of the traditional enemies of free speech, and they paid her a handsome retainer besides. As said, a simpleton; what Lenin would have called "a useful idiot."
My counsel Adrian Davies, who will represent me in Court on Tuesday, informs me: "No further action is required on yr. part." I reply that they seem to be throwing much good money after bad: "I have read Lipstadt's article in Nova Law Review, and I have changed my view on her: a helpless simpleton at sea, on a raft surrounded by the real sharks on right and left."

A NEW YORK film company asks: "Would it be possible to get full access to shoot your engagement in Chicago as well as follow you around?"
Before leaving Independence, Missouri, at midday, to drive another four hundred mile stretch toward Louisiana, I fill up at a gas station. Forty-five dollars for a full tank -- still dirt-cheap by English standards.
I glance at the Suburban's license tags, front and back. The expiration date on them is "December 2005" -- they have another nine months to run. So the police story was phony. It is quite a shock.
As I puzzle over it, another point occurs to me: the White officer said that the front desk had shown him my registration card. The hotel did not know which car was mine. How would he have known which name to ask for? That Suburban with the "expired" tags might have belonged to any one of a hundred guests -- but they already knew my name.
So what was it all about? A robbery? Reconnaissance? Or Homeland Security. It all makes me feel that much more secure. From far away, in a German prison cell, I fancy I hear Ernst Z. whispering, "Not."

[Previous Radical's Diary]