As I predicted, the obituaries all headline the fact that he "authenticated" the Hitler Diaries in 1983.

-- David Irving on the passing of historian Hugh Trevor-Roper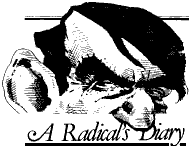 January 26, 2003 (Sunday),
London
A RELAXED Sunday lunch with Jessica at the Spaghetti House. She asks me, during a quiet moment, "Daddy, is it normal for people to get their homes taken? I mean, how often does it happen?"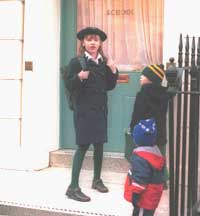 I fail to quantify it for her. It shows how last May's event has preyed on her mind. Unfortunately, she continues, Mummy insisted that she go to school that day, otherwise she would have stood outside with a placard saying, "Don't take my home."
January 27, 2003 (Monday),
London
Up at 8 a.m. I am sorry to see from this morning's newspapers that Professor Hugh Trevor-Roper has died. It is thirty-five years to the day since I visited him in Oxford on January 27, 1968, and scooped up all his top secret files on Hitler. [Radical's Diary, Jan 27, 1968]
As I predicted, the obituaries all headline the fact that he "authenticated" the Hitler Diaries in 1983. That just shows their sense of values; one of the great historians of the and in the twentieth century, his first great book, The Last Days of Adolf Hitler, is and will remain a standard work and masterpiece.
The "diaries" blunder was magnified by the media, because of the money that the scam had cost them and the egg that was left on their face. The journaille willingly fastened the blame onto the academic.
He told me he had been led into the Swiss bank vault where the "diaries" had been stored, shown the heap, allowed a few minutes to leaf through them, and then taken out, blinking, into the sunlight again and asked his verdict. Since Stern magazine had paid DM9 million for them, and The Sunday Times many millions of pounds, he wrongly (as it turned out) assumed that they had had all the necessary forensic tests performed on them, and he allowed his name to be used as the final cachet of authenticity.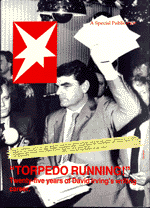 But I was at the great press conference held by Stern magazine in April 1983, at which he was on the platform and -- after I had voiced doubts from the floor -- he declared that he was no longer convinced that the diaries were in fact real. That must have taken great courage, in the glare of the world's television cameras.
I wrote him a handwritten letter afterwards telling him so, and he replied generously.
I have to admit that he unfailingly reviewed my books well, while disagreeing with me on the extent of Hitler's ignorance of the Final Solution; which praise of course earned him the odium and scorn of the conformists and hired guns like Richard Evans, the conformist Cambridge historian, who found it seemly and necessary to call him ignorant and negligent.

TREVOR-ROPER was fortunate of course to have been a young major in British Intelligence when World War II ended, and exclusively charged with two vitally important tasks: investigating the circumstances of Hitler's death (because the Russians were insisting he was still alive); and finding out what had happened to Martin Bormann, a mission that was code-named NURSERY, if I recall rightly.
His personal files at Oxford, when I visited him in 1968, -- he was Regius Professor of Modern History -- were therefore filled with still-secret British Intelligence reports --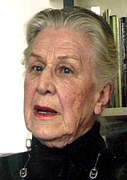 the CSDIC interrogations, letter intercepts, and interrogations which he had personally conducted of members of Hitler's staff like Traudl Junge (right, who typed Hitler's last testaments in the bunker).
It was a sign of his great generosity that when I left his house, after spending all day reading these papers, he allowed me to load the entire collection into my car and retain it for many weeks; with his permission, I then catalogued and sorted the papers, and put them on microfilm at my personal expense. They filled three rolls of microfilm, one of which was devoted to the bomb plot against Hitler of July 20, 1944 (another of his fields of expertise).
In fact he had a lot of the original Nazi records too, the July 20, 1944 files of a Gauleitung in Northern Germany which had copies of all the telexes sent out by Martin Bormann that day. Those papers, which he never used to manage himself, became the backbone of my own Hitler's War project.
Possession of one or two of the British MI6 items led me into deep trouble with the government, and Harold Wilson investigated, as the files now in the Public Record Office show, whether I should be imprisoned for having them. Oddly, one file of Trevor-Roper's investigation into the death of Hitler is still held in the safe file at the PRO; I must remember to ask for it when I go there later this week.
As for the microfilm copies which I took of his files, they are part of the huge collection of my papers which has been wholly illegally seized last May by the government's trustee, and which I must now fight to get back. Trevor-Roper had a relatively easy life compared with mine, as an historian: he was a conformist, true, but he went into the field; he was a shirt sleeves historian of the best-type, and his works are still of a lasting value.
---
9:30 to 10:30 a.m. conference on The Final Gavel at Amhurst, Brown, Colombotti. Our application to the Court of Appeal will be lodged today. [In the case D J C Irving vs penguin Books Ltd & Lipstadt]. Judge Gray erred on two important points of law. Peter Laskey warns that the appeal judge who finally decides may be another hostile; that is a chance we always take. [...]
[Previous Radical's Diary]


on this website: