Bormann's adjutant misjudged the mood and suggested that as it was an airborne pest, the job should go to the Luftwaffe adjutant.

-- David Irving talks about a famous July 1944 incident at Hitler's Headquarters.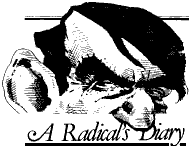 July 16, 2002 (Tuesday)
Key West (Florida)
My Counsel phones from London at my request. Discussion of the final wallop, and raising the modest funds needed to punch it through; they are needed in two stages -- he says the first stage is to perfect the transcript concerned, but he thinks the legal point to be appealed before a Lord Justice of Appeal, the second stage, is a short one and we stand a good chance as Gray J himself said he would be unhappy about making an Order if [...].
There are two days' work involved in perfecting the transcript. I must sort it out with Peter Laskey (my solicitor).
I look up the transcript, and find the passage which Counsel, Adrian Davies, is referring to. I will post it in a confidential website dossier, with password protection, for my major contributors later this week.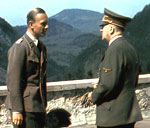 A NICE letter in this morning's mailbox from Fritz Darges in Germany. Now that is a name from the past! I interviewed him thirty years ago, when I was researching Hitler's War. He was Martin Bormann's adjutant attached to Hitler's HQ, and as such attended most of the war conferences at the Wolf's Lair in Rastenburg until an odd incident in 1944 which was gleefully confirmed to me by several of the others present -- an incident which, if included in some Wannsee-type made-for-TV docudrama would be dismissed as wholly far-fetched, even if it had the name of Stephen Spielberg as producer tacked onto it.
I described the Darges episode only briefly in Hitler's War:
Hitler's world [in the summer of 1944] was thus beginning to crash. In Italy the German Fourteenth Army pulled out of Leghorn (Livorno). In Denmark Communist resistance cells were waging overt partisan warfare. In Hungary too there were ominous rumblings. Hungary refused to deport the Jews from Budapest; instead, Horthy announced, a general would be bringing Hitler a letter on July 21 .
The reasons for Hitler's discontent were therefore manifold. His irritation was such that on July 18 he dismissed one of his adjutants, Fritz Darges, transferring him to the eastern front because of a minor incident involving a winged insect in the conference hut. He lunched in his bunker that day with his secretary Fräulein Christa Schroeder. He was ill at ease. Once he exclaimed, "Nothing must happen to me now, because there is nobody else who could take over!" He had premonitions of trouble and commented uneasily, "There is something in the air." Two days later he admitted to Mussolini that he had first experienced them during the flight to the Wolf's Lair. On July 29 he was to say, "I admit I long expected an assassination attempt."
The actual "Darges incident" was even more improbable than the above passage suggests. It was July 18, 1944. A fly began buzzing around the famous conference hut -- destined to be wrecked just two days later by an assassin's bomb. It landed on Hitler's shoulder several times, as he stooped over the battle maps, and he irritably squatted at it and missed, while his adjutants began to snicker. Called upon to dispatch the insect, Bormann's adjutant misjudged the mood and suggested that as it was an airborne pest, the job should go to the Luftwaffe adjutant, Nicolas von Below. Hitler dismissed Darges on the spot and he was banished to the Eastern Front.
Among others, I had half-heartedly invited Darges to come to Cincinnati, if only to shake hands and meet privately with our hundreds of guests who are eager for first hand contact with Real History. In his reply, received today, he regrets that his eyesight is now all but gone, he needs medical attention, and he is just too old to make the trip: and who can blame him?
"I would have loved to attend this convention," he writes, in handwriting even bigger than Hitler's famed typewriter. "I am sure you will be struggling to get at the truth about history. There are still major lacunae there, and the media-mafia dominates the market. I know of the difficulties people are causing you. I wish the convention every success in the fight against the Dunkelmänner" -- the dusky figures who oppose us.

LATER, journalist Sam Francis phones: We have been announcing him as one of the after-dinner speakers for our upcoming Cincinnati conference in six weeks' time. He is just the kind of man we need, who does not fear to express his opinions. The Washington Times carried his column for many years, but fired him -- for personal reasons, rather than because of the fire and brimstone that he breathed.
"I have rather bad news," he begins -- as though the reason for his unexpected phone call could have been in any doubt. He has decided he cannot speak after all. He has mentioned his invitation today to Peter Brimelow, who carries his column in some publication, and Brimelow has "hit the roof."
I don't know who Brimelow is, but I know his type. The media are crawling with people like him. They oil their way around the floor. I thank Sam for calling, and hang up. Russ Granata also called in sick a few days ago, saying he felt unwell: that is an uncanny ability, to be able to predict feeling unwell six weeks hence. Reminds me of the historian Count Nikolai Tolstoy, who accepted our jnvitation two years ago, then forgot he had accepted and thrice denied it to the media when challenged; and Viktor Suvorow, who actually did forget he had accepted (on May 16 last year), and phoned weeks later to apologise for not having turned up!
It is harder to put together a major conference like this than outsiders will ever realize. None of these feeble gentlemen will ever get invited again, that is for sure: at least not by me. Thank goodness we have a fine line-up already secured, including a major panel discussion between real experts on the events and timelines of the four planes that went down on September 11. That is what Real History is about. I shall start revealing names closer to the event: we are holding them back precisely because of the Brimelows of this world.

Postscript (Wednesday, July 17, 2002): I am informed that Peter Brimelow is (or was) a senior editor at Forbes and National Review. Currently president of the Center For American Unity, and that he also seems to run a website called "VDARE".
Previous Radical's Diary