Register now for this third annual event, Labor Day weekend in Cincinnati
Friday afternoon, August 31 until Monday, September 3.
---
FULL PREVIEW of this event in PDF format. Including a registration form (300K)! Or:
Ask us to mail a copy to you
---
FROM David Irving's opening speech onward -- on Leni Riefenstahl, with the private showing of her most famous pre-war propaganda film -- our guests enjoy a thrilling weekend of real history.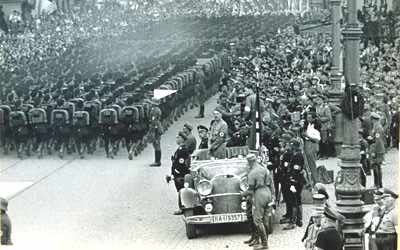 We've laid on extra get-togethers this year including a welcoming buffet reception, and a dinner cruise while famous Canadian barrister Doug Christie describes his legal battles for free speech.
We spend a second warm summer evening on the riverfront, dining on a boat-deck with ringside seats for the most lavish fireworks display in the mid-West; we hear Tony Martin, left, Professor of Africana Studies at Wellesley College, reveal the shocking origins of the Black slave trade (and who the culprits were).
We listen to famous, forthright syndicated columnist Joe Sobran. We pay our respects to Günther Deckert,
right, one of the world's longest-serving political prisoners, imprisoned in Germany for chairing a lecture by Mr Irving. GUNTER DECKERT himself has been banned from attending this year. Deckert has been informed by consular officials in Frankfurt on Wednesday, June 27 that he will not be granted a visa -- because of the prison term he has served for violating Germany's laws for the restriction of free speech.
Other speakers will discuss ongoing mysteries like the CIA file on OSS/SS double-agent Wilhelm Höttl -- the man who invented the "six million" figure -- and the murder of Hitler's deputy Rudolf Hess.
Among our controversial but authoritative world-class speakers this year is Viktor Suvorov ("Icebreaker: Who started the Second World War?"), the acknowledged expert on Stalin's plans to attack western Europe (but Adolf Hitler struck first).
Ask for our flier: Real History, POBox 62414, Cincinnati, Ohio 45241-0414, USA; phone tollfree 1 877 447 5678; email Focalp@aol.com. Easiest of all, visit www.focal.org/cinc to see the program, to register, or to book a room at the luxurious Marriott to get our low function-rate.
Hitler's War and Churchill's War:
Mr Irving will have copies of both new books, fresh off the printing presses, to sign. Each book is over 1,000 pages with 40 pages of pictures.
Have a look at our advertising [pdf]

You will need Acrobat Reader (click icon below for free download) to read and print it. Early registration will be essential. Download the brochure including a registration and payment form for faxing or mailing, or register online.
Download our brochure (.pdf)
Download the form only (.pdf)
Alphabetical site index (text)