Letters to David Irving on this Website
---
Unless correspondents ask us not to, this Website will post selected letters that it receives and invite open debate.
Wilma Kamp of San Diego, California, asks for our readers' help on jewellery attributed to Eva Braun, Saturday, March 6, 2004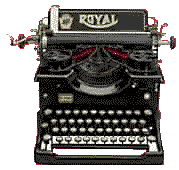 Is this from Eva Braun's jewellery?
I AM in possession of a 18ct gold cross. I have had this piece for forty years. I have no memory of where or who gave it to me. I do remember the story however, I was told that it was a gift from Adolf Hitler to Eva Braun. I am now trying to locate something about it.

click images to enlarge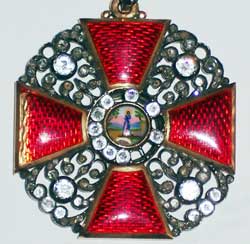 The person who gave this piece to my sister has passed away. My sister doesn't remember any of the story. I remember that the parents of this person traveled a great deal and the piece probably came from one of their trips.
The clasp is one that is worn on a ribbon around ones neck.It is 18 carat gold; there are stones missing and part of the red enamel has been chipped as well as the miniature portrait of the women in the middle of the piece, as one can see on the bottom of the middle piece..My interest is in finding its orgin and value.Thank you in advance for any help you can give me.

Dossier on the search for Eva Braun's diaries and her correspondence with Hitler

Free download of David Irving's books
Bookmark the download page to find the latest new free books
Tuesday, March 9, 2004. A reader has now advised our inquirer:
The gold cross that you have is the Order of St Anna. It is from Imperial Russia and you can find more informations on the following websites:

Yours is probably a 2nd or 3rd class order of St Anna, either an early model or the version for foreigners (more likely), since it has diamonds on it. I don't see any reason why it would be Eva Braun's medal.

You can view one in the catalog of this website: http://www.hermann-historica.com/gb/index.htm

Go to the catalog of Imperial Russia and look for this order, there is one with diamonds which is quite similar.