Jim Atkins asks on Thursday, March 26, 2009 about Julius Schaub, Hitler's closest Old Guard friend and adjutant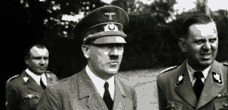 Photo shows: Hitler with Martin Bormann (left) andJulius Schaub (right). From Walther Hewel/David Irving collection.
What do we know about Julius Schaub?
I'M thoroughly enjoying "Hitler's War". You did an impeccable job of researching and writing it. The book has piqued my interest in Julius Schaub. For a guy who was in the thick of things for nearly the entire war, there doesn't seem to be much written about him.
Was he just the average flunky, or was he in the same league of infuence in the Third Reich as Bormann?
If you can refer me to a source of information about Schaub, I would appreciate it very much. I am particularly interested in what became of him after the war.
Thanks very much.
Jim Atkins
Frederic, Wisconsin

Our dossiers on Adolf Hitler | on Heinrich Himmler | on Leni Riefenstahl
Free download of David Irving's books
Bookmark the download page to find the latest new free books