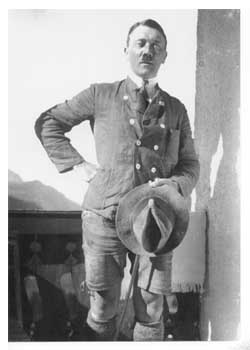 Hitler, ca. 1926. Photo by Lotte Bechstein, from David Irving: "Hitler's War" (Millennium Edition, 2002)

David Irving replies:
IT is not impossible, though improbable (why has he surfaced only now?).
I have often heard stories of the illegitimate offspring of top Nazis.
Himmler had two illegitimate children during the war with his mistress Hedwig Potthast (I have seen the birth certificates among other papers of hers).
Rommel had an illegitimate son with a woman in his youth.
When I visited Argentina in 1991 I was invited to meet (but did not) a son of Dr Goebbels living in the city.
Hitler's infatuation with his niece Geli Raubal may in theory have led to a child in 1929 (she committed suicide in his apartment early in September 1931); but people like Goebbels, who was for a time interested in Geli himself, would surely have commented on her pregnancy in his diary, and her brother Leo, whom I interviewed in the eerly 1970s, would have told me also.
Related items on this website: