Letters to David Irving on this Website
---
Unless correspondents ask us not to, this Website will post selected letters that it receives and invite open debate.
Vilma Kosa-Szantho and her fellow Hungarians, Wednesday, October 16, 2002, have doubts about the credentials of a new Nobel laureate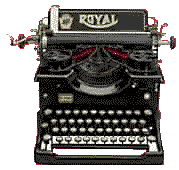 Is Kertesz another ASSHOL* candidate?
I NEED your help, advice. Our Hungarian community is suspicious about Imre Kertesz's having been in any concentration camp. He was born in 1930, that is all the media says about his biography.

We cannot find out by ourselves. The Hungarian community, and disregard the media and other organizations named "Hungarian", is outraged at this naming of a writer who is completely unknown to the Hungarian literary public, and never read.

Please help us to find out who this person really is and was.
Related file on this website:
Contemporary Authors suddenly posts Kertesz "biography" [This backdates his birthday on eyear to 1929, which would still make him only 14 when sent to Auschwitz. Hmmm. What jolly bad luck.]
---
* The Association of Spurious Survivors of the Holocaust and other Liars.
Free download of David Irving's books
Bookmark the download page to find the latest new free books