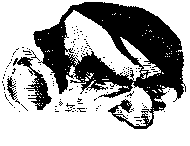 DAVID IRVING writes: A
YOU have hit pay-dirt by writing to me. (Note how well I master the US vernacular). First, go to my website, which you know, and you will find my popular-edition of The diaries of Hitler's Doctor, Morell. (It is a free download 1.9MB of my book, translating the diaries).
Do you read German? If so, I will send you on disc or by email the PDF scan I have done of the 300pp typescripts memoirs (diary) of Dr E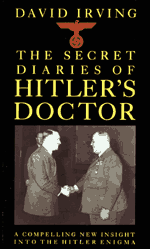 rwin Giesing, who treated Hitler after July 1944. However, Hotmail may cause you problems with such big downloads.
Please come back to me with your further questions. Get the book by Dr Fritz Redlich, but he relied heavily on me (I am not sure how much he credits me however). Dr Karl Brandt wrote a diary in Nuremberg, and his son has it.
PS do you have there a historian there called Dr Jay W. Baird at the Dept. of History, Miami University, Ohio? Ask him why he never responded to my letters of Dec 1993 asking for access to his Werner Naumann papers; he taped Naumann in 1969/1970, agreed to let me have them, then suddenly went quiet. Not very collegial. I guess he is one of the conformist (i.e. craven) historians.