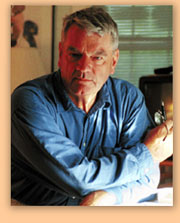 David Irving
[Photo by David Gamble for The Independent on Sunday]
---
Letter from David Irving to biographer Dr Nicholas Reynolds
---
October 1, 1981
81 DUKE STREET
MAYFAIR W.1

October 1st, 1981
Dear Nick,
I'm sorry to have left your letter so long without reply but I have been in North and Central America since the end of June and returned only two days ago to find a heap of mail awaiting me. I am now methodically labouring my way through it.
The waves thrown up in the press by the publication of Uprising and The War Between the Generals have now died down, and I am hard at work on Churchill. In October I shall be in Germany for a week, speaking to functions organized by a Panzer division and to a convention on the Nuremberg Trials organized by the city of Frankenthal. I'm happy to say I have also got a list of invitations to speak in this country, including to the Cambridge Union, so it is going to be a busy autumn.
[...] In fact, as you guess perhaps, the War book has not done well in the USA -- the boycott against it by the seven big paperback publishers was very damaging, with the result that there will be no paperback, meaning a loss of around $200,000 to me, i.e. the book has been a total loss from a commercial point of view. We thank a certain John Lukács for this extraordinary result -- he published a lying, corrupt review in the NYT which had the desired effect. The NYT took several months to publish a reply from me (I know that Martin Blumenson and many other historians wrote furious letters attacking Lukács) but the damage was done. NBC had invited me to appear on their Today show: I came to New York, the programme was deadlined, postponed, then videotaped -- and never used. All thanks to Lukács. I am quite annoyed.