---
Wednesday, March 17, 2004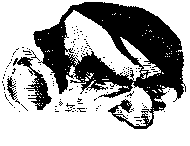 David Irving comments:
SO the normalisation, the de-demonisation, continues apace. Mussolini-street in Sicily, now Hitler in effigy as a tourist attraction in Berlin.
I doubt he will last long, He still provokes a spitting rage in certain of his enemies: the last time I visited Madame Tussaud's in London about twenty years ago the rather amateurish wax effigy of the Führer on display at the establishment was encased behind an inch-thick glass shield, which was covered with (one presumes) spittle.
The last time I made a pilgrimage (I use that word purely for the benefit of the press) to the Obersalzberg, in about 1990, there was a live "Adolf Hitler" strolling about amongst the huge crowds of visitors complete with armband and brown tunic, willing to be photographed with them for a fee. The Bavarian authborities turned a benign blind eye.
Around half a million tourists visit the site of the Berghof each year, and take the elevator up through the mountain (erbaut by Martin Bormann in 1937) to take tea where Hitler once did.
We understand that not many tourists are interested in finding out where the former German President Richard von Weizsäcker once took tea -- or Richard von Speichellecker,* as I used to call him in my speeches in the Federal Republic.

* Lickspittle.
Hitler Returns to the Heart of Berlin - in Wax
By Dave Graham
BERLIN (Reuters) - A life-size wax figure of Adolf Hitler has gone on display in the heart of Berlin in what museum officials say is the first such public exhibition of the Nazi dictator in post-war Germany. "Provided it's all just art, it's permitted," a Culture Ministry spokesman said Tuesday, when asked if the Hitler waxwork was breaking Germany's tough anti-fascist laws banning the use of Nazi symbols and insignia. Hitler shares a room at the "Galerie Art'el" museum with his World War II adversaries Joseph Stalin, Franklin D. Roosevelt and Winston Churchill, overlooking the former Cold War border crossing Checkpoint Charlie in the once-divided German capital.
Museum director Inna Vollstädt said Hitler would soon be reunited with his former Nazi henchmen Hermann Goering, Heinrich Himmler and Joseph Goebbels in the waxwork displays. "Until now there has never been a wax figure of Hitler displayed in Germany," said Vollstädt. "We have these men to thank for the Berlin Wall. We want them all," she said, referring to the Cold War barrier. Vollstädt, born in Russia, has assembled a collection of wax models including Count Dracula, French porn actress Lolo Ferrari and ancient Greek philosopher Diogenes.
ANTI-FASCIST LAWS

Although it has been nearly 60 years since Hitler and his top deputies killed themselves at the end of the Third Reich, artists must be mindful of the anti- fascist laws. German authorities have long been at pains to distance the country from Hitler's legacy. The remains of the Führer's bunker in central Berlin have been sealed off to prevent neo-Nazis from turning it into a shrine. In the museum an unusually placid-looking Hitler stands conservatively attired in a gray jacket by a window, while seated figures of Microsoft co- founder Bill Gates and former Beatle Paul McCartney drink tea nearby.
At the reception desk of the museum near the East-West border crossing where Soviet and U.S. tanks faced each other in a tense Cold War moment in 1961, visitors find a middle-aged woman writing. Many do not spot the fake. "That's our wax Agatha Christie," said Vollstädt. "People often mistakenly ask her for a ticket." Vollstädt, who has lived in Germany for 35 years but still speaks with a Russian accent, rented her first waxworks from the St. Petersburg wax museum but will add more in a bid to create Berlin's answer to the famed Madame Tussaud's in London.
Exhibits such as Ferrari proved such popular attractions before coming to Berlin that they required repair work. "Lolo Ferrari was in Cyprus before we got her," said Vollstädt. "She'd had so many hands on her that there was a hole between her breasts -- so we had to fix her."
Vollstädt said the waxworks with real hair and prosthetic eyes cost between $5,000 and $10,000 to make. Soviet authorities sent many of her relatives to gulags, but she sees the waxworks as a way to put things in perspective. "An uncle of mine got five years in prison for making a joke about Stalin," said Vollstädt. "But I think when you see Stalin here and the others cast in wax, you realize it's all history and it's good to be able say -- never again."

© Reuters 2004. All Rights Reserved.

Website dossier on Hitler