L

Melbourne, February 21, 2000
---
Hitler Speech up for Sale
By Chris Hastings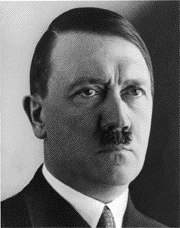 LONDON, Feb 21 - Handwritten notes for a speech Adolf Hitler gave to parliament shortly before the outbreak of World War II are to be sold at auction next month, organisers said today.
The rare notes in Hitler's handwriting on six correspondence cards bearing the Nazi leader's personal emblem in gold are estimated to be worth between 10,000 and 15,000 pounds ($A25,500 and $A38,000), Dominic Winter Book Auctions said in a communique.
The sale is to be held in Swindon, southern England, on March 2.
The notes for a speech delivered on January 30, 1939, were found by a German soldier in Berlin in 1945 in the still-smouldering ruins of Nazi headquarters. A young soldier of Britain's Royal Air Force, Ronald Mason, traded a pack of cigarettes for the notes outside the abandoned chancellery of the Third Reich.
Mason kept the notes for 55 years before deciding to sell them. "Autograph speech notes by Hitler are of the greatest rarity on the market, largely because he rarely set down his speeches, preferring to speak without notes," said Richard Westwood-Brookes, an expert at Dominic Winter.
---

Friday, March 3, 2000
Hitler's notes fetch £12,000.

Hitler's handwritten notes for a speech to the German parliament in 1939 -- which a German swopped with an RAF officer for cigarettes -- sold for £11,800 at auction. The notes,belonging to Wg Cdr Ronald Mason, 79, of Swindon, Wilts, were bought by an anonymous American collector at Dominic Winter Book Auctions in Swindon.