http://www.spiegel.de/panorama/0,1518,182156,00.html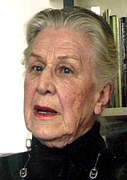 Illustrations added by this website; this picture of
Traudl Junge is from her interview in The Fatal Attraction
[Summary: Traudl Junge, Adolf Hitler's last secretary, who just published her memoirs a week ago, has died on Monday February 11, 2002 of cancer; she is alleged to have spoken critically of him to the producers of the film based on the book].
13. Februar 2002, 16:55
Traudl Junge Hitlers Sekretärin tot
HITLER sei "ein echter Verbrecher" gewesen, sie habe es nur nicht gemerkt, hatte Traudl Junge gesagt, die letzte Sekretärin des "Führers". Nun ist Junge gestorben, kurz nachdem bei den Berliner Filmfestspielen ein Dokumentarfilm über ihr Leben vorgestellt worden war.
Berlin - Am Mittwoch bestätigte eine Sprecherin der Filmfestspiele, dass die 81-Jährige in der Nacht zum Montag in einem Münchner Krankenhaus einem Krebsleiden erlegen sei. Am Sonntag war auf der Berlinale der Film "Im toten Winkel" präsentiert worden, in dem Junge über ihre Jahre von 1942 bis 1945 als Sekretärin des Diktators berichtet.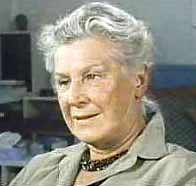 Der Bericht, in dem Junge zum ersten Mal überhaupt über ihre Schuldgefühle sprach, hatte viele Zuschauer erschüttert. Für ihr Versagen, Hitler gedient zu haben, gebe es keine Entschuldigung, hatte die alte Dame in dem Film erklärt: "Hitler war ein echter Verbrecher, ich habe es nur nicht gemerkt. Und außer mir haben es Millionen nicht gesehen."
Ihre Schilderungen nannte der Wiener Künstler André Heller, der mit Regisseur Othmar Schmiderer die Dokumentation zusammenstellt hatte, einen Beweis für die "Banalität des Bösen". "Ich hab den Film freigegeben, jetzt gibt mich das Leben frei", hatte Junge zu Heller und Schmiderer gesagt, nachdem sie ihr die 90-minütige Dokumentation vorgeführt hatten.

Relevant items on this website:
Bunker typist tells of Hitler, the friendly boss
Gitta Sereny: "Traudl Junge, Hitler's secretary from 1943, says the Führer she knew was kind, paternal and fond of gossip"
David Irving: Hitler's War (based on Traudl Junge's then unpublished original and unexpurgated memoirs and on Mr Irving's 1960s interviews with her). Free download of new Milllennium edition
---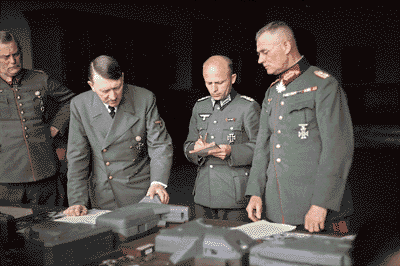 Illustration from David Irving: Hitler's War. [Buy this picture as a 2' x 3' Focal Point poster]