[images and captions added by this website]

Montreal, Canada, Wednesday, July 13, 2005

Hitler sketches on the block

Canadian Jewish Congress lashes out at Montreal auction of architectural drawings

by Tia Goldenberg
The Gazette

ALONG with the bright and flowery Andy Warhol piece and the untitled Joan Miro, another set of works will be sold at an auction in Montreal on Monday. Their creator: Adolf Hitler.

Four architectural sketches by [sic. this Website disagrees] the German dictator were consigned to the Iegor-Hotel des Encans auction house by an anonymous vendor about a month ago.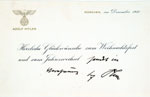 The drawings are to be auctioned in separate lots alongside two signed greeting cards sent to Hitler's chief architect, Albert Speer - one from New Year's Day 1935 and the other from Christmas 1938.
Auctioneer Iegor de Saint Hippolyte said he's too superstitious to put a value on the works before the auction, but said they won't be the highest-selling lots among the 300 works being sold.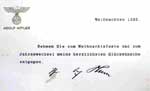 He also said the simple ink and charcoal drawings, three of which appear in the book Adolf Hitler, historian John Toland's pictorial documentary of the dictator's life, have little or no political significance.
"If I was selling (Hitler's autobiography) Mein Kampf or another very political work, there would be some neo-Nazi interest in buying it," de Saint Hippolyte said.
"But this is not so political."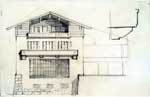 The drawings, two of which depict the Linz opera house in Austria and Hitler's country home the Berghof, don't look like typical Third Reich propaganda nor do they bear discriminatory statements.
But the politics of these pieces does not lie in what they are, one historian said, but what they convey.
"Architecture was a major factor in the propaganda of the Third Reich," said Peter Hoffmann, a McGill University history professor specializing in German resistance against National Socialism.
Hitler wanted to build monuments and edifices throughout what he hoped would be his 1,000-year empire. Like Greek and Roman ruins, they would serve as testimony to the great power of the regime, Hoffmann said.
Besides trying to redesign Berlin with grand avenues, stately assembly halls and towering government buildings, Hitler and Speer wanted to rebuild Linz, Hitler's home town, as well.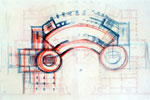 The sketch of the opera house, originally by Speer, was corrected by Hitler.
"It gives insight into the man. It shows how much he wanted to manipulate things," de Saint Hippolyte said.
Hitler's art has been sold before. In Britain in 1997, a watercolour painting by the Nazi leader was sold to an anonymous buyer for about $9,000 - about five times its estimated value. Hitler had dreamed of becoming an artist before he entered politics.
Max Bernard, honorary vice-president of the Canadian Jewish Congress's Quebec region, said the political aspect of the architecture is evident in the drawings.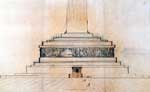 "It is a (sketch of a) monument of the Nazi regime, which in itself is offensive."
The congress has lashed out at the selling of the drawings. Bernard said if they have architectural worth, they should be [Website comment: hidden] in an archive, where scholars and architects can study them for research purposes.
"The congress is certainly not suggesting that these things should be destroyed, but that's where they belong," he said.
Of the 8,000 invitees to the auction, de Saint Hippolyte said, he expects more than 150 people to show and another 200 to place absentee bids. The patrons are mostly private collectors and archive directors.
The kind of person who might buy such a piece can range from an architecture and history buff to a collector of Nazi and war memorabilia, Hoffmann said.
It is these private collectors who worry the Canadian Jewish Congress. They "might derive some sort of pleasure out of having something created by someone of that notoriety," Bernard said.
He said he sees no other value in the pieces.
"They're being sold alongside the works of legitimate artists, who I think also might be a little disappointed at that."
Heinz Becker, an administrator at Montreal's Goethe Institute, a German [Government] cultural organization, also sees little value in the sketches.
"If there would be a piece of paper signed by him, ordering the death of so many people, that would be of historical value. But a design like that -- a house with a chimney -- I don't see what kind of value it could have," Becker said.
Hoffmann noted the concerns of the Canadian Jewish Congress were legitimate.
"The concern is that it may make Hitler appear as less than a monster if he was interested in architecture," he said.
But, Hoffmann added, there's already overwhelming evidence showing Hitler's evil character, so documents like these must be in the public domain.
"It's important to keep a historical record. That's simply important in its own right," Hoffmann said. "No historical record can be ignored."

© The Gazette (Montreal) 2005

Hitler Sketches, cards, net $32,000 at Montreal Auction