Wednesday, November 22, 2000; updated Friday, May 27, 2005
Price $22,000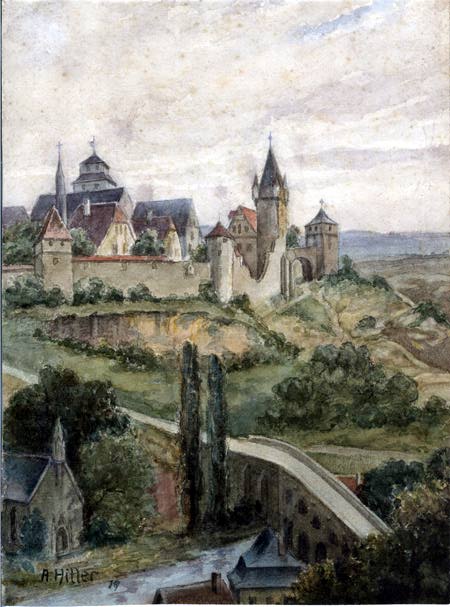 Adolf Hitler: View of Laon, France, 1919
22cm (width) X 30cm (height); 8. 5/8" X 12"
(provisionally sold to MH)
PRICE $22,000
This Hitler "Presentation Watercolor", signed "A. Hitler, '19", shows a French city surrounded by a medieval wall with a large crater in front of the wall. It is the most significant of the Hitler watercolors as it may be his last watercolor and it carries on the verso his personal inscription to Lotte Bechstein, "Meiner lieben Löttl," signed "Dein Wolf." (Click on the image to see the back).

The current owner T. states, "This is the watercolor that generated my correspondence with Dr. Werner Maser and has been published in his latest book. Research reveals that this watercolor was probably presented to the Munich Art Professor Ferdinand Stäger by Hitler in 1919 for an appraisal of his art talent, and that Stäger told him that he had exceptional talent. This may be the last watercolor that Hitler painted."