Sunday 26 May 2002
'British' Wagner saved Jews from her friend Hitler
By Tony Paterson
in Berlin
WINIFRED Wagner, the composer Richard Wagner's British-born daughter-in-law known for her fanatical admiration of Adolf Hitler, saved Jews, Communists and homosexuals from the Nazi death camps, according to a new biography. She started life as an orphan named Winifred Marjorie Williams before marrying the composer's son Siegfried in 1915 and going on to run Germany's Bayreuth festival throughout the Nazi era after her husband's death in 1930. It has long been known that she was a close friend of Hitler, the Nazi dictator, whom she affectionately nicknamed "Wolf" and entertained frequently.

After the Second World War, she was forced to give up her role as the Bayreuth festival director because of her Nazi links. From then on, she was regarded by the Wagner family and the German public as an incorrigible Nazi apologist.
"She is the only Nazi left in Germany," wrote the writer Heinrich Mann after the war.
Now, however, fresh evidence about the woman known as "Hitler's girlfriend" has been unearthed by Brigitte Hamann, a Vienna-based historian. Her biography Winifred Wagner or Hitler's Bayreuth was published in Germany last week.
Mrs Hamann spent five years researching unpublished material held by a Wagner archivist and letters written by the Wagner family's private schoolteacher, Liselotte Schmitt.
Most of Winifred Wagner's correspondence and diaries, including her letters to Hitler, are still held by the Wagner family and remain unpublished. Her biography shows that, contrary to popular belief, Winifred's friendship with Hitler cooled dramatically during the war after she intervened on many occasions to prevent her Jewish, Communist and homosexual friends from being sent to concentration camps.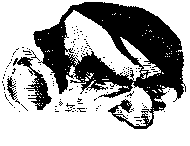 David Irving comments:
AS readers of my book Hitler's War know, I interviewed Winifred Wagner several times for that work; she conversed only in German despite her English origins. My notes on those interviews are in the archives of the Institut für Zeitgeschichte, where ironically I can no longer use them myself, being banned since 1993 from German soil. Ironic too that The Sunday Telegraph does not reveal who conducted that 1975 interview with Winifred!
She spoke with great fondness of Adolf Hitler, who signed himself as "Kapellmeister Wolf" in his letters to her. Was that incorrigible? In the eyes of her family, evidently so. She recited a poem to me, whose gist was that when one had been a friend to somebody in the good times, meaning Hitler, one was duty bound to remain loyal to them in the hard.
A frequent visitor to Haus Wahnfried, the Wagner residence in Bayreuth, he flattered her: "Now that I have seen this house, I am no longer satisfied with the Berghof."
Significantly, he once told her: "I can always rescue individuals from the excesses of some of my more zealous officials. But you must give the letters to Dr [Karl] Brandt [his personal physician] to hand to me: otherwise Herr [Martin] Bormann will see to it that the letters do not reach me."
She loathed the other doctor, Prof Theo Morell, and once described to me his untidy eating habits: with an orange, he cut out a small window in the peel, then noisily sucked out its contents oblivious of his fellow guests' expressions.
Hitler singled out the upcoming violinist David Oistrakh, a Jew, as a particular talent for the future, but Winifred told me that "Wolf" had only scorn for the famed conductor Herbert von Karajan after he fumbled at one point in a gala performance of Die Meistersinger for the King and Queen of Yugoslavia in June 1939. Conducting without a score, Karajan lost his way, the singers halted, the curtain was rung down in confusion. Furious, Hitler directed Winifred: "Herr von Karajan will never conduct at Bayreuth in my lifetime" -- and he did not.
After the war her influence declined. When historian Elke Fröhlich and I once asked Winifred if she could get us tickets for the Bayreuth Festival, she apologised that she could not.

Even before the war, Winifred, who was a Nazi Party member, told Hitler that she was "disgusted" by the persecution of the Jews. After Jewish members of the Bayreuth festival team were spat at by Nazi sympathisers, she wrote to him, saying: "It is a scandal that these honourable men should be denigrated by such rabid individuals. These Jews have earned a right to Bayreuth through their life's work." In the late 1930s, a letter from her to Hitler prevented Alfred and Hedwig Pringsheim -- whose daughter Katja was married to the writer Thomas Mann -- from being arrested by the Gestapo.

The couple were allowed to flee to Switzerland. "My grandparents owe their escape entirely to Winifred Wagner," Mrs Hamann quotes their grandson as saying.

Winifred is quoted as saying to a Communist friend, Lydia Beil, whom she managed to free from imprisonment by the Nazis: "I will make my passionate opposition felt if it helps to prevent an act of violence by the party." The Jewish singer Hans Beer was also rescued from a "punishment battalion" at Buchenwald concentration camp on Winifred's intervention. "I was snatched from the jaws of death," the book quotes him as saying. Mrs Hamann reveals that, because of her position, Winifred was able to help dozens of Nazi victims who turned to her increasingly after war broke out. "She did so spontaneously, automatically and with a great deal of human sympathy," writes Mrs Hamann.

Her book makes no attempt to conceal the fact that, despite her action in saving victims of Nazism, Winifred remained a devoted admirer of Hitler until her death in 1980.

In a 1975 interview [with David Irving], she said: "If Hitler were to come in the door today, I would be as happy and glad to see him and have him here as I always was." She admitted keeping a picture of the dictator on her desk bearing his inscription: "From Wolf to Winnie." Winifred was convinced that Hitler bore little responsibility for the Holocaust because she felt that he was deliberately driven insane by "poisonous injections" administered by his doctor, Theodor Morell.

The biography suggests that her indoctrination started when -- as a frail nine-year-old suffering from dermatitis -- she was plucked from an orphanage in East Grinstead, Sussex, and adopted by the anti-Semitic Klindworth family in Berlin who were Wagner fans and friends of the composer. Winifred first visited Bayreuth in 1914 when she was 17. A year later, she married Siegfried Wagner, who was 28 years her senior. "From then on, she was immersed in a morass of anti-Semitic Nazi ideology," said Claus Spahn, a Wagner expert who reviewed the biography for Die Zeit newspaper. "The whole Wagner family including their servants were under Hitler's influence."

Mr Spahn said more would be known about Winifred if the family -- who still run Bayreuth festival, with her son Wolfgang as director -- allowed full publication of her letters and diaries.

"There is little chance of this happening," he said. "Winifred Wagner is still the black sheep of the Wagner clan."

© Copyright of Telegraph Group Limited 2002.

---