1 Canada Square
Canary Wharf
London E14 5DT
[Handwritten letter from Sir John keegan-- seen in our picture receiving his knighthood on May 3, 2000: ]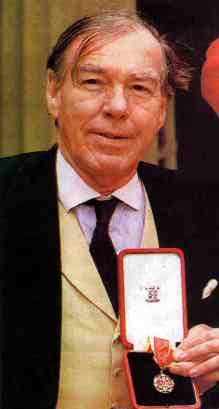 March 4th, 1996
Dear Mr Young
You have hit on two of the most controversial issues of the Second World War.
Bombing: I think it cannot be disputed(?) that the R.A.F. began "area" bombing -- in 1942, March I think. However, the Luftwaffe had caused heavy loss of civilian life in Warsaw, September 1939, Rotterdam, May 1940 and London -- September 1940, December 1940, or May 1941. These were deliberate city attacks, if not area bombing as Harris designated it.
The Wannsee conference did not, I think, specify by what methods Jews and others would be exterminated. The numbers exterminated at Auschwitz may not be the figure normally quoted -- it was a camp area, rather a than a single camp. Very large numbers of Jews were shot in 1941, in the Baltic states and western Russia. The main extermination camps were at Belzec, Sobibor or Treblinka. in eastern Poland. I accept that the total of Jewish deaths was about six million, but who can be exact when such vast numbers were victims, and such care was taken to preserve secrecy in killing them?
Yours sincerely
John Keegan