[images added by this website]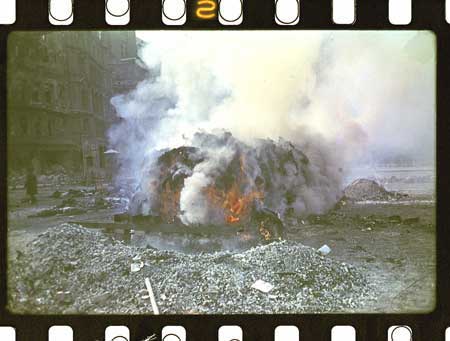 Photo: Dresden air raid victims being cremated 500 at a time on the Altmark square, Feb 25, 1945 (copyright photo by the late Walter Hahn from Apocalypse 1945: the Destruction of Dresden)
---

Tuesday, June 22, 2004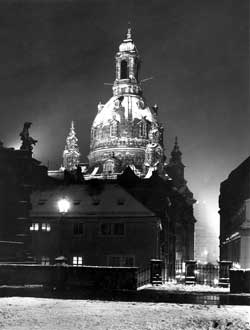 The Frauenkirche before its destruction: Photo by the late Walter Hahn, Dresden.
Dresden's symbol of rebuilt relations
From Roger Boyes
in Berlin
A GOLDEN orb and cross, crafted by the son of a Lancaster pilot who bombed Dresden, will today be hoisted on to the roof of the city's rebuilt Frauenkirche in one of the most potent symbols of British and German reconciliation since the Second World War.
The ceremony, to be led by the Duke of Kent, will be attended by about 150 British visitors, including witnesses of the firestorm in February 1945 and Harry Ricketts, one of the few surviving members of the Allied bomber crews who attacked the city.
Mr Ricketts served in the Lancaster piloted by Frank Smith, father of Alan Smith, 56, the silversmith who has been working on the 9m (30ft) cross.
The Frauenkirche, or Church of Our Lady, crumbled and fell after two days of heavy bombing and raging fires; the original orb and cross were later found under the rubble but were too damaged to be restored. The church itself remained as rubble throughout the communist era, effectively functioning as an anti-war monument.
After the fall of communism, Dresden put out a call for financial help to rebuild the church. The Dresden Trust, based in Chichester, collected more than £750,000 from British wellwishers. It has been spent on 100 stones, a window in the northwest façade and the orb and cross.
The ceremony today marks the end of the major work on the exterior. When the interior and the new organ are complete, the church will be reconsecrated next year.


... on this website
Mr Irving contributed to the Frauenkirche reconstruction fund