Thursday, January 8, 2004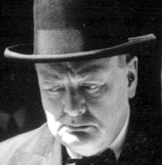 Opinion
Taxing Winston
WINSTON Churchill's war leadership won him immense admiration throughout the world. But the opening last week of official records sealed under Britain's "50 [sic. 30] year rule" gives us another reason to like Sir Winston &endash; he spent years, even while Prime Minister, haggling with Inland revenue over taxes.
We should be clear that the documents in question do not imply tax evasion, but merely Churchill's acute awareness of the unfairness of the heavy taxes levied on his various writing and speaking activities outside of Parliament.
According to the Sunday Telegraph, the documents show that in the 1930s, Churchill was wary of accepting an invitation to do a speaking tour in the US because he feared the additional income would boost the rate of tax on all of his income and make it not worth his while.
David Irving comments: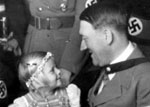 "UNCLE ADOLF, is it true that David Irving couldn't prove he isn't an apologist for you?"
"Inge, that's what we folks call a double-negative."

---
* Interesting, that the WSJ is among the 70,000 daily readers of this website. I called the facts revealed by the Sunday Telegraph "unsavoury", not Churchill's efforts as such.

Even at the height of World War II, he found time to dispute a tax bill of 6,000 pounds. One might as easily say that, even at the height of the war, Inland Revenues saw fit to add to the enormous pressures on the Prime Minister.

Churchill biographer David Irving, who famously lost a libel case because he couldn't prove he wasn't an apologist for Hitler, calls Churchill's tax minimization efforts "unsavory."[* SEE BOX ON RIGHT] But they seem perfectly ordinary to us. Only a politician fully aware of the burden of taxes is likely to appreciate when they need to be cut. Historian Andrew Roberts avers in the Telegraph "I think if people had to choose between the Inland Revenue and the man who saved Western civilization, they would opt for the latter."

Churchill's aversion to excessive taxation was not limited to his personal accounts. As Chancellor of the Exchequer in the 1920s he cut taxes across the board. And it was Churchill who said:, "We contend that for a nation to try to tax itself into prosperity is like a man standing in a bucket and trying to lift himself up by the handle."



... on this website:
Our new website dossier on Churchill

Abe Foxman's instant outrage as Wall Street Journal favorably cites David Irving on Churchill's tax problems
How Winston Churchill fought Inland Revenue on wartime 'second front'
David Irving: Churchill's War, free download

Website note: Churchill's monthly desk calendars for the war years September 1939-1945 are available as a service to historians on CD Rom in pdf format for $50 from Focal Point Publications, 36 Hertford St, London W1J 7SE