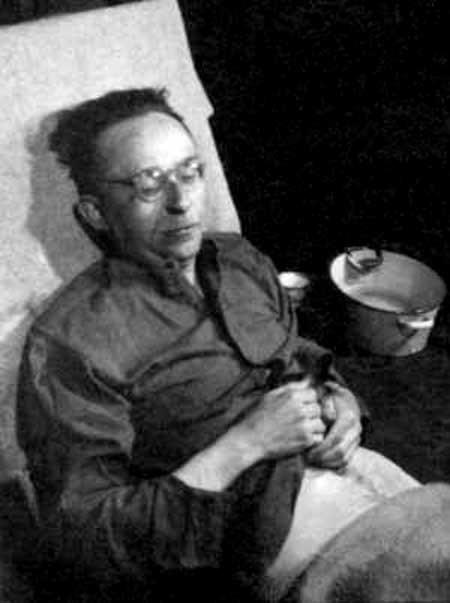 From David Irving: Heinrich Himmler
Lance Corporal Bill Carrot was on guard duty at No. 31a Uelzener Strasse this day, May 24. When driver Norman Redford arrived to bring him his meals, he asked Carrot about the unusual level of activity, with high ranking officers and military police. Redford was a driver of the 2nd Battalion of the Monmouthshire regiment, working in the Defence Company's transport section that day; as duty driver this day he had to take meals to all guard posts at Second Army headquarters; knowing that Redford had an Ensign Selfix folding camera -- the troops used him as an 'unofficial' army photographer -- Carrot said only, 'Come back later -- and bring your camera.'
When Redford returned, Carrot told him to go round the back and get in through a window that had been left open, while he kept lookout round the front of the house. Lying on the floor was a body whom Redford recognized at once as being that of Heinrich Himmler.
'The body was not in a very good position for taking a photograph,' recalled Redford later, 'so we propped him up against an upturned table which we had covered with a blanket.' He took a photo using room lighting and the light coming in from the nearby window, then made good his escape.
He developed the film himself using an army caravan as a darkroom, but took the negatives to a local chemist the next day to make prints in return for chocolate and cigarettes. Hearing of his escapade the guard duty officer demanded the negative and warned him against speaking to anyone about what I had done.
See Norman Redford, 'The Demise of Heinrich Himmler 1945,' undated (1989?); cf The Daily Mirror, May 6, 1945

["Sergeant Carl Sutton," or "Norman Redford"? ]